Women protest the defamation campaign against Kars municipality
We won't allow the seizure of yet another municipality in silence, said women.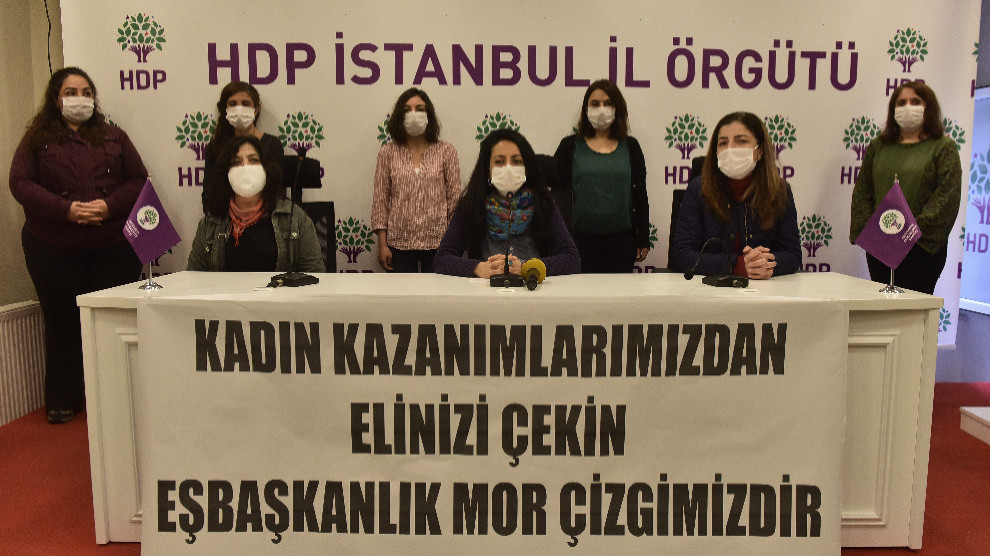 HDP (Peoples' Democratic Party) Istanbul Women's Council and its components protested the defamation campaign of the Turkish government and media targeting the Kars Municipality held by the HDP.
The press conference held at HDP Istanbul provincial branch was attended by HDP MP Züleyha Gülüm, women representatives of the Socialist Women's Council (SKM), SYK Women's Council, Free Women's Movement (TJA) and Revolutionary Party.  
The press statement was read by HDP Istanbul Provincial Organization co-chair Elif Bulut.
Emphasizing that the AKP-MHP government is constantly pursuing fascist policies against HDP-run municipalities, Bulut recalled that the government has seized 8 HDP municipalities at a time when the world is struggling with coronavirus.
Bulut noted that the government has also prevented aid campaigns as it did not give up the hostile policies towards the gains of the Kurds during the pandemic.
Bulut said: "We have established mechanisms to ensure that women can reach us through violence lines within our municipalities. With the limited possibilities of our municipalities, we have taken the necessary measures to protect the public against the coronavirus. Especially with the increase of women's poverty, we have established cooperatives to promote a collective life. As we succeeded, the failure of the AKP government became clear. Our achievements revealed the reality of the government's inability to govern. This led to attacks against us, the latest example being the attacks against Kars Municipality."
Pointing out that the ground is being prepared for seizing Kars Municipality, Bulut added: "We won't accept the attack against our co-mayors, Şevin Alaca and Ayhan Bilgen, who work in solidarity with their people. Kars Municipality will continue to serve with the confidence it receives from the people. We won't allow the seizure of yet another municipality in silence."