Women march against Öcalan's isolation in Shengal
The Yazidi Women's Freedom Movement (TAJE) and the Yazidi Youth Union staged a protest in Shengal against the isolation of Kurdish leader Abdullah Öcalan.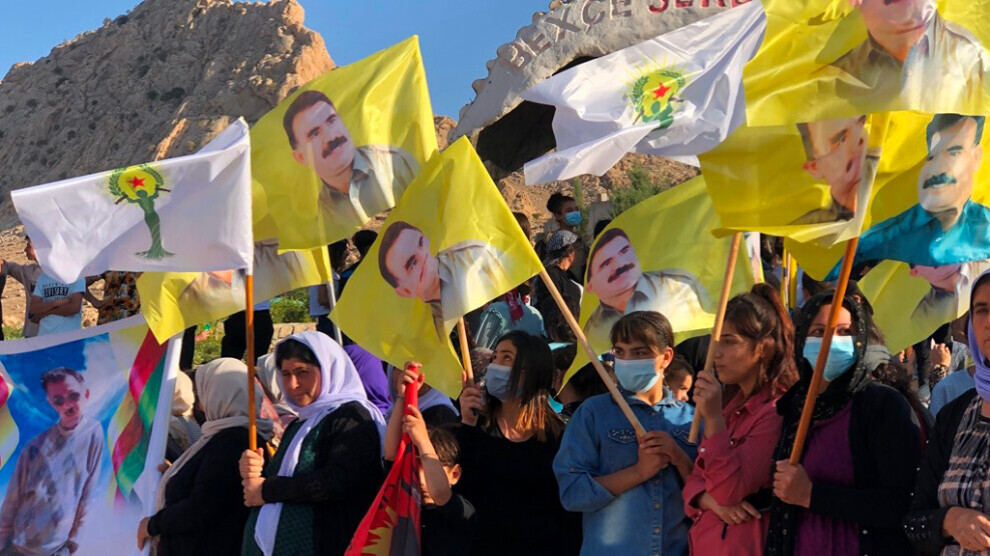 The people of Shengal came together in Şehîd Genco near Sinun road and marched to the 'Leader's Garden' in Kers Valley.
The group displayed posters of Öcalan and flags of Yazidi organizations during the protest, chanting slogans such as "Bê serok jiyan nabe" [No life without the leader].
A press statement read out by Besê Şengalî on behalf of the Young Women and the Yazidi Youth Union at the Leader's Garden said, "The international conspiracy against Öcalan in 1998 is continuing with arrests and isolation today. The isolation of Öcalan violates Turkey's own domestic laws and proves the immorality of the Turkish state. The isolation continues because Öcalan defends the rights of the peoples. As Yazidi youth, we will fight until Öcalan becomes free."
Riham Hyo, a member of TAJÊ coordination, spoke afterwards and said, "Öcalan has been under aggravated isolation for 25 years due to a conspiracy. This isolation is getting worse as time goes on. As Yazidi women, we strongly condemn the conspiratorial forces. Just as they introduced a conspiracy against Öcalan, they organized a similar one against the Yazidi community on August 3, 2014. The massacre suffered by our people and the conspiracy against Öcalan are interconnected."