Women kick off March 8 events in Amed: No obedience but resistance!
Women in Amed started the International Women's Day (March 8) events. Women made a statement despite the police's attempt to intervene.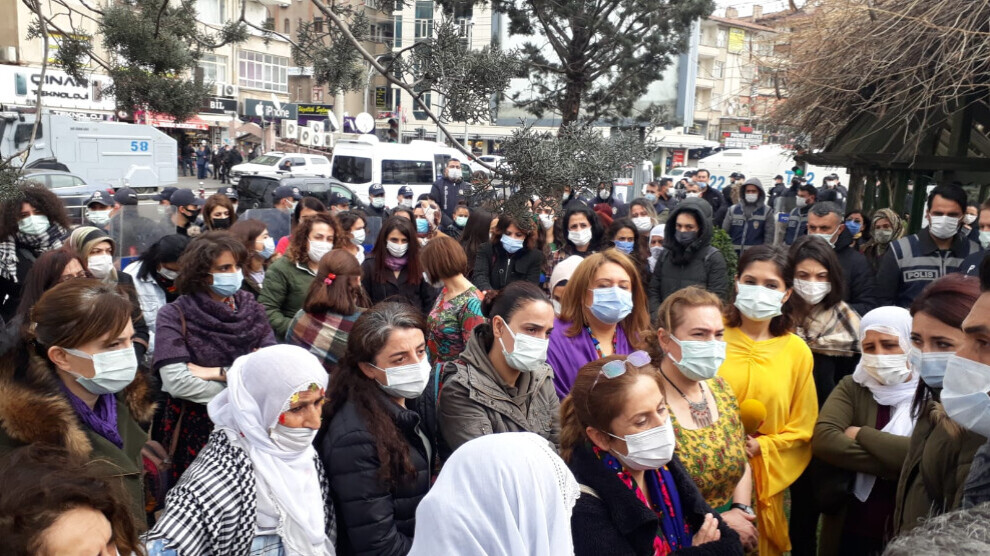 Dicle Amed Women's Platform (DAKP) started the International Women's Day activities in Hazal Park in Amed. The police stopped the women who wore traditional clothes. While the police objected to the word "isolation" on the banner "We defend life against femicide, freedom against isolation", the women denounced the fact that there is isolation in Turkey's prisons and that they do not recognize the police rules, protesting the police intervention with ululations and applause.
Songülcan Şimşek, a member of the Education and Science Workers' Union (Eğitim-Sen), who read out a statement on behalf of the DAKP despite the police intervention, called attention to the 1,400 percent increase in femicide during the Justice and Development Party (AKP) government. Şimşek remarked that the male dominated state and judiciary give rise to femicides. "Femicides are carried out to weaken the women's struggle movements and to subject women to flexible, insecure unemployment, poverty, harassment, rape, abuse, oppression, massacres. In line with this purpose, of course, the male dominated system targets women activists who carry out women's struggle and speak out against male domination in every field."
'MALE DOMINATION WILL END'
Emphasizing that the government aims to weaken the women's struggle, Şimşek continued, "However, it should be known that the women's struggle has always disrupted male domination and will continue to do so. We know that this male domination will come to an end and the struggle of women will contribute to this end."
'FREEDOM AGAINST ISOLATION'
Underscoring the AKP-MHP government's hostility toward democracy, Şimşek said: "The reason why the AKP-MHP fascist government's policies that are hostile to women, women's freedom struggle, nature, laborers, Kurdish women, peoples' struggle for freedom have become violent is that the AKP-MHP government has a fear as all fascist governments do. The arrest of Leyla Güven and Ayşe Gökkan, is a reflection of this fear. Just like Leyla and Ayşe, women will not go anywhere and will not abandon the traditions of thousands of years of struggle. We defend life against femicide, freedom against isolation."
The women ended the statement with the slogans "There is no obedience, there is resistance", "The pressures cannot discourage us", "We are not silent, we are not afraid, we do not obey" and "Jin jiyan azadi" (Woman, life, freedom).
The women later walked to the PTT Branch in the Ofis district and sent solidarity letters to the women behind bars.