Woller: I am honored to stand by the Kurds
Ernst Woller, First President of the Vienna Provincial Parliament, attended the Newroz celebration and stated that he was honored to stand by the Kurds.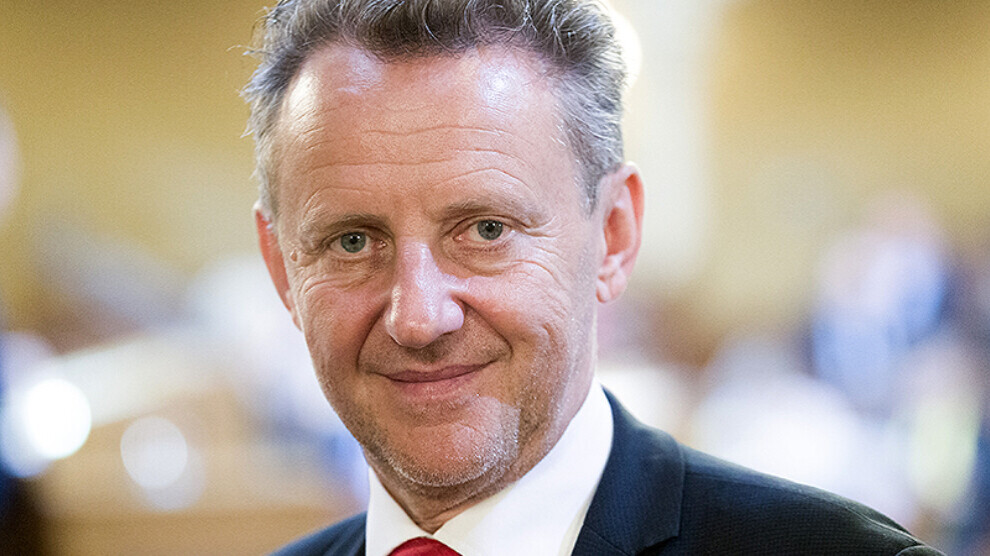 This year, Newroz celebrations were held all over the world. In addition to four parts of Kurdistan and Europe, Kurds and Austrians attended the big celebration held in Vienna on 26 March.
The celebration was attended by thousands of Kurdish people. The First President of Vienna Provincial Parliament, Ernst Woller, walked on the stage with a green, yellow and red scarf around his neck and greeted the people. Woller saluted the people's Newroz in Kurdish, and stated that he has known the Kurds for nearly 30 years. He said he was honored to be part of the celebration.
Emphasizing the importance of such events in terms of unity, Woller said: "I am honored to participate in this Newroz event. I salute all participants on the Newroz holiday. I always stand with the Kurdish people. Tens of thousands of Kurds live in Vienna. I know the situation in Kurdistan and the Kurds. Tens of millions of Kurds live without a state, without a recognized identity. People from different parts of Kurdistan participate in this event that is also important for the city of Vienna."
Kurdish friends have a major duty
Stating that he has known the Kurds for more than 30 years, Woller added that he has been to both Southern and Northern Kurdistan many times. "I have been following the Kurdish struggle for a long time. In 2002, I went to Diyarbakır as an observer to the elections. I got to know a lot of Kurds and established good relations with them.
Kurdish friends should tell more about the struggle of Kurds here (in Europe) so that people living here can get to know them. One of our most important duties should be to tell people about the Kurds. If people get to know the Kurds and learn what they are going through, they will support them more. My respect for this movement and this society has increased more and more over the years."
FEY-KOM's work is important
Woller said that the work of the Austrian Kurdish Council (FEY-KOM) is important. Emphasizing that Kurdish People's Leader Abdullah Öcalan has been imprisoned for many years, Woller said: "People should insist on this issue. Now we are celebrating a Newroz here. It is quite a magnificent and enthusiastic celebration. This is how we can raise our voices. I know that there are many demonstrations in Vienna. In these actions, in these celebrations, many people get to know the Kurds and their struggle."
Ernst Woller
Born on 2 March 1954 in Vienna, Ernst Woller is an Austrian politician from the SPÖ and the current President of the Vienna Provincial Parliament. He became a member of the Bundestag in 1991.