TJA and HDP on femicide: We will enhance our organized struggle
TJA and HDP Women's Council condemned the murders of Aylin Sözen, Selda Taş and Vesile Dönmez, saying "We will not be reasonable women you are trying to create; we will never stop fighting against your male-dominated system in all areas."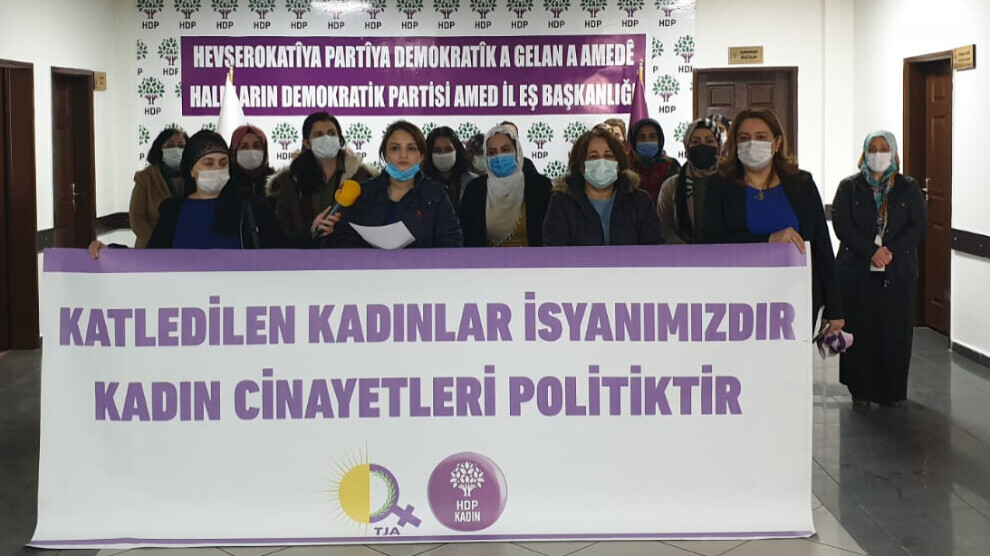 The Free Women's Movement (TJA) and the Peoples' Democratic Party (HDP) Women's Council made a press release regarding the killing of women in the last few days. TJA activists and HDP Women's Council members attended the statement made in the HDP Amed provincial building. Democratic Regions Party (DBP) Amed Provincial co-chair Seval Gülmez said Aylin Sözen, Selda Taş, Vesile Dönmez and hundreds of women whom they could not count yet were murdered by the dirty and brutal male-dominated mindset and pointed out that women live in a country where violence against women and femicide increase each day and perpetrators are encouraged by policies of impunity.
VIOLENCE AT HOME, ON THE STREETS AND EVERYWHERE
Pointing out that violence against women is increasingly widespread from home to the street, to the entire social sphere, to the academic environment, Gülmez said, "The state, which is far from solving problems such as violence, harassment, and rape, which women experience only because of their gender, is against women with their misogynist discourses, continues to let women die and be a partner in every murder. We know that there is a male-dominated order behind the violence and murders that target our gender at home, on the street and in our workplaces."
WOMEN'S GAINS
Drawing attention to the Istanbul Convention, Gülmez said that the convention imposes responsibility on the signatory countries. She continued; "Let alone implementing the Istanbul Convention, the AKP, with its monist and religious policies, has made women's institutions and associations a target by introducing a new bill that paves the way for the appointment of trustees. We know this mentality first-hand from women's institutions that were closed after the appointment of trustees, and from associations fighting violence against women, which were closed with governmental decrees".
'WE WILL ENHANCE OUR ORGANIZED STRUGGLE'
Gülmez said, "We are challenging you with the rebellion stemming from increasing male violence and we will continue to disturb you and make you face your bad deeds. We will not be the reasonable women that you are trying to create and we will struggle against your male dominated system in our homes, in our workplaces and in all social and political areas. We will continue to increase our organized struggle until the murderers of Aylin Sözen, Selda Taş, Vesile Dönmez are brought to account, deterrent laws are enacted and penalties are applied for all kinds of crimes against women."