Thousands demand trial for Erdogan for his role in Paris massacre
In Paris, tens of thousands demanded a trial for Turkish president Recep Tayyip Erdogan for his role in the killing of three Kurdish women in Paris in 2012.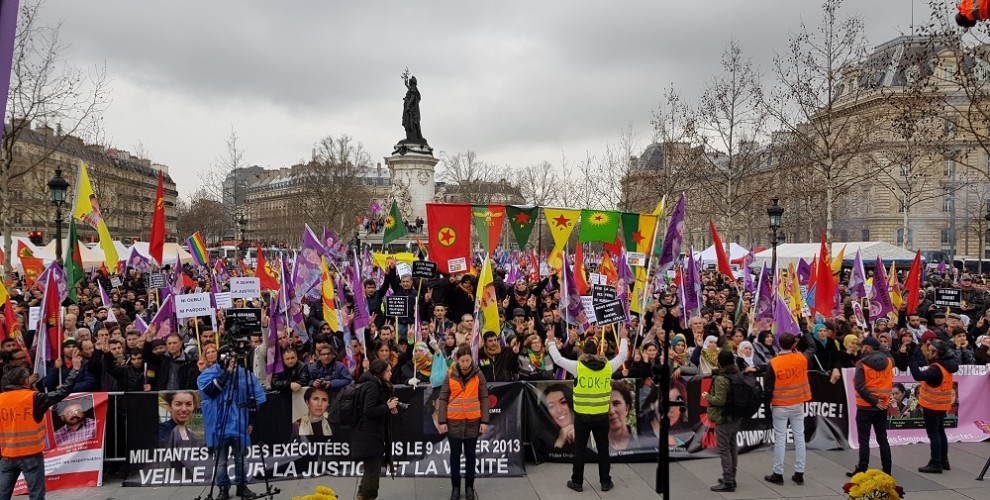 More than 25 thousand gathered in Paris today, to commemorate three Kurdish revolutionary women, Sakine Cansız, Fidan Dogan and Leyla Saylemez, who were killed by a Turkish MIT agent on January 9, 2012.
At today's demonstration in Paris, protestors called upon the French state to put those who are behind the Paris massacre on trial.
Organized by the Kurdish Women's Movement Europe (TJK-E) and the Democratic Kurdish Council France (CDK-F), the demonstration was attended by thousands of women and numerous Kurdish and French politicians, including Jean Luc Melenchon, leader of the French Left Party, and Pierre Laurent, chairman of the French Communist Party.
"We never looked for the murderer, but for those behind him. The man who gave the order for this attack was in Paris yesterday" Metin Cansiz, brother of Sakine Cansiz, said referring to Recep Tayyip Erdogan's visit to Paris.
Cumali Saylemez, the father of Leyla Şaylemez, also said that they will continue to fight for justice and called on the French state to fulfil its responsibilities.
Commenting on yesterday's meeting of French President Emmanuel Macron with Erdogan, Pierre Laurent of the Communist Party said: "We will not allow the Kurds once again to be sacrificed to economic and political interests."
In his speech, Jen-Christophe Sellin, a member of the Left Party, commented on the recent statements of MIT agents captured by the PKK: "According to the statements, the order of these murders was given by Erdogan. In view of this statement, Erdogan should be tried in France. "
The protestors chanted slogans condemning Erdogan and Turkish government for its role in Paris killings.
Five years ago, on January 9, 2012, three Kurdish woman revolutionaries were killed by an MIT agent in Paris.  The French judiciary has delayed the trial of the suspect Omer Guney until he died in December 2016 in custody of a brain tumour.
Last April, at the request of the survivor's lawyers, a new preliminary investigation was initiated but no developments were reported.