TAJÊ: We will crush the walls of Imrali
TAJÊ reacted to the silence towards the aggravated isolation of Kurdish leader Abdullah Öcalan and said that, "We will crush the walls of the İmralı prison through our struggle."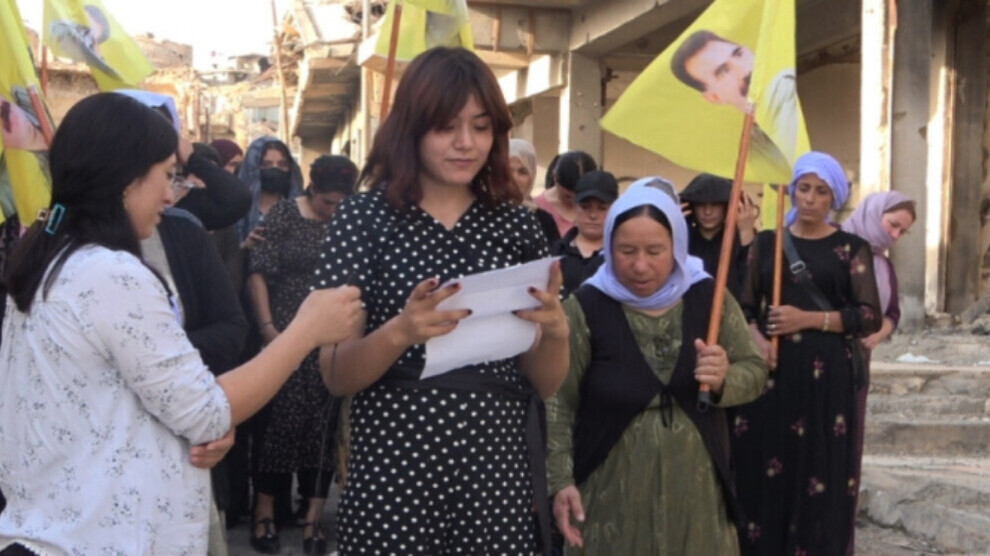 The Yazidi Women's Freedom Movement (Tevgera Azadiya Jinên Êzidî, TAJÊ )issued a statement in Shengal concerning the aggravated isolation of Kurdish leader Abdullah Öcalan in the İmralı Island Prison.
Nesrin Sadun read out the statement at the Old Bazaar (Suka Kevin), saying the following:
"As it is known, Leader Apo [Abdullah Öcalan] has been kept under heavy isolation in the Imrali Prison for the last 24 years. No news has been received from him for about a year and a half. Despite the isolation, oppression and torture executed by the invading Turkish state and its partners, Öcalan has been fighting and resisting for 24 years."
The statement continued, "The resistance of Öcalan has spread all over the world. Currently, the freedom of Öcalan is demanded in all four parts of Kurdistan and by the international community, and there has also been a struggle for his physical freedom."
"The Yazidi community and Yazidi women consider Öcalan's ideas to be advocating the freedom of all women. He has carried out a unique struggle for women's freedom and offered an opportunity to lead a free life. The TAJÊ urges all women to fully support Öcalan's ideas and continue the struggle for his physical freedom. Finally, we would like to state that the plans of the AKP-MHP fascist state and its partners will be frustrated, and we will crush the walls of the Imrali through our struggle," the statement concluded.