Raqqa women on hunger strike in solidarity with prisoners
Raqqa women launched a hunger strike to support the action of the prisoners in Turkey and North Kurdistan under the motto "We will break the darkness with hunger strike action".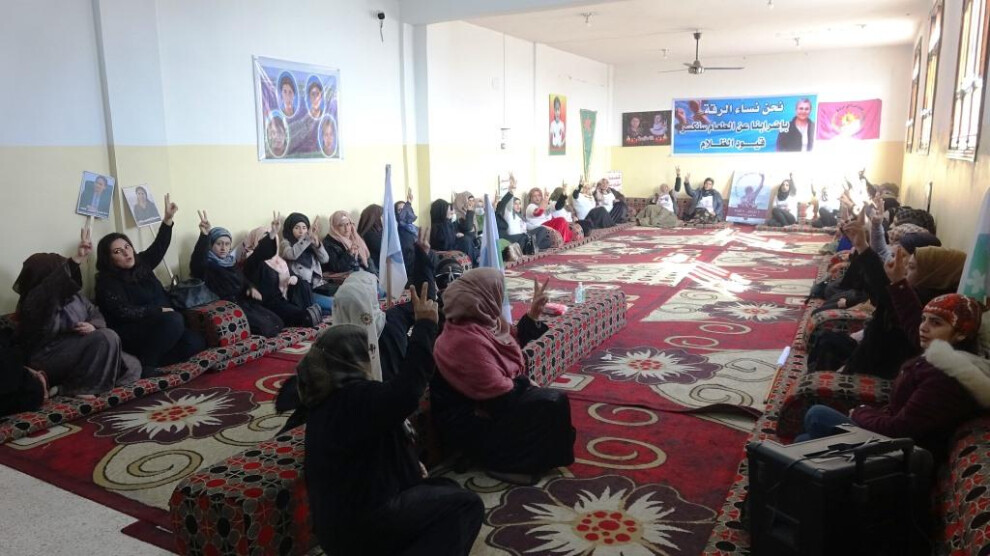 Raqqa Women's Council started a hunger strike in order to protest the unlawful arrest of DTK (Democratic Society Congress) co-chair Leyla Güven by the Turkish state and to endorse the hunger strike initiated to end increasing human rights violations in the prisons of Turkey and North Kurdistan and to lift the isolation imposed on Kurdish Leader Abdullah Öcalan in the Imrali Island Prison.
Raqqa Women Council started the hunger strike action in the building of Raqqa Martyrs' Families Council.
73 women from Raqqa Civil Council, Syrian Future Party, Education and Training Committee, Raqqa People's Municipality, Syrian Women's Council, NGO members and martyrs' wives attended the action on its first day.
The action started with Tesnim Necar, a member of Raqqa Women's Council, reading out the statement.
The statement said the following:
"We started a hunger strike for 2 days in this where the blood of martyrs was split. We condemn the arrests and detentions by the Turkish state and its gangs.
From the lands of the Euphrates, the lands of the resistance, we call on the world and international human rights organizations to display serious reaction against the arrest of Leyla Güven, the symbol of civil and peaceful struggle, presenting an example to all women of the world.
We want to state that we will continue our struggle to protect women and crown this struggle with victory."
Later, Henan Mihemed gave a speech on behalf of the Women's Bureau of the Syrian Future Party, Hibe El Ebdullah on behalf of the Martyrs' Families Council, Nadiye El Yusif on behalf of the Women's Committee of the Raqqa Civil Council.
Stating that women who talk about freedom are targeted by the ruling governments, the speakers noted that the days will come when the will of women will be strengthened, and women will become free and independent.
The action continued with a cinevision screening depicting the violations of the Turkish state against political prisoners.
The hunger strike action is expected to last for 2 days.