Peace Mothers: Peace will come with Öcalan
The Peace Mothers will take to the streets on the September 1st, the World Peace Day, to call for peace. The mothers named Kurdish People's Leader Abdullah Öcalan as the address of peace.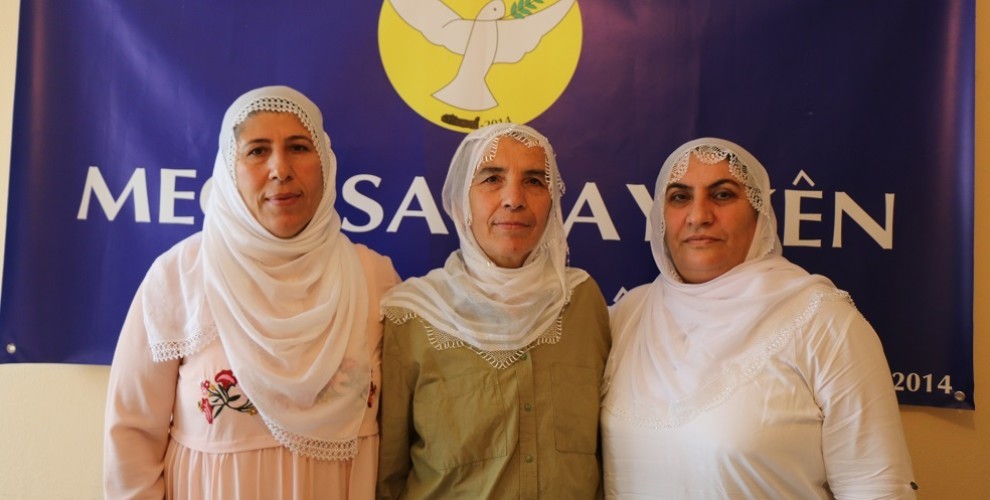 The Peace Mothers Initiative is struggling with their white scarves since 2014 to make peace become reality. One of the initiatives that organised itself in many cities in form of assemblies, is the Peace Mothers' Council in Istanbul.
After the denial of the Dolmabahçe Accord by Turkish President Recep Tayyip Erdoğan, the Peace Mothers started to demonstrate in front of the Dolmabahçe Palace on November 4, 2015 with the slogan "We want the overthrown table in Dolmabahçe to be re-established". The mothers asked for peace in front of Dolmabahçe Palace for 58 weeks. This action of the mothers is being obstructed since December 7, 2016, on the pretext of the state of emergency.
Emphasising their determination to insist on peace everywhere, the Peace Mothers continue their meetings and activities in their office in Istanbul's Fatih district. The Peace Mothers gather every day from 10:00 am to 5:00 pm group by group and also welcome visitors during the day. The Peace Mothers are getting ready for the 1st September, the World Peace Day, and are pointing to Kurdish People's Leader Abdullah Öcalan, who is held under aggravated isolation in İmralı F Type High Security Prison, as the address of the solution and peace.
"TRUE PEACE ONLY POSSIBLE WITH ÖCALAN"
Peace Mother Perihan Akbulut stated that they do not want anything other than peace and said: "We do not want anything else than to be like all people in the world in possession of our language and identity. The money spent on the war is enough for two Kurdistans and two Turkeys. The envoy of peace, the architect of peace is imprisoned in İmrali today. For years we demand negotiations to be commenced with Öcalan. Because only with him true peace is possible. If we as a society still ask for peace despite all the suffering, its architecture is Öcalan. "
Akbulut asked the AKP government: "If they put today our politicians in prison, instil terror in the society, if the Roboski massacre and all those committed mass killings are not being called to account, how shall peace ever take place?", and called on the government: "Peace is in fact easier than war. Peace is brotherhood, equality. War means killings. For long years we have been living in war. But we still ask for peace. We believe in peace, and therefore will we persist on not giving up on it. We will bring peace to this country."
"MEET WITH ÖCALAN"
Peace Mother Zeynep Calıhan said: "We do not want soldiers, guerrillas and police officers to die", and continued saying: "If there was peace, people would come out of prison. Our children, our deputies, Mr. Abdullah Öcalan would be freed. But because they make a profit with war, they do not want peace."
Calıhan pointed out that the solution table, which was overthrown by the government, can be established once again through meetings with Öcalan and said: "That table was toppled. Yet it can be set up again. Is this so hard? Those who do not deem this country worth of peace, is the state and the leaders of this state. Our leader designed a resolution process, but they knocked down the table. Now they do not conduct any meetings with Öcalan. Because if they meet him, peace and democracy will be initiated. They make a profit with the war. The children who die are not their children. The children who die, are the children of mothers. Mothers shall no more shed any tears. Kurds or Turks, the pain and the tears are all the same. I am a Turk, and my children are in prison. If peace takes place, those children will come out." Calıhan stressed that they will always be active at all places to demand peace and said: "We are for peace."
'WE LEFT OUR WHITE SCARVES IN FRONT OF THEIR DOORS'
Another Peace Mother Bedia Gökguz pointed out that the state is trying to make them get used to war, but that they will always insist on peace, saying, "As much as we say peace, they say war. The more we demand an end to the war, the more they intensify it. Who are they fighting against? Whichever war the mothers intervened with these white scarves of theirs, that war ended. But Tayyip Erdoğan does not understand it. We left these white scarves hundreds of times in front of their doors, but they do not understand anything of peace. They know that once this war is over, their personal profits will cease as well."