Kongreya Star celebrates 16th foundation anniversary
Kongreya Star celebrated its 16th foundation anniversary with an event. In speeches at the celebration, all women were urged to say "It's time to stop the murderers."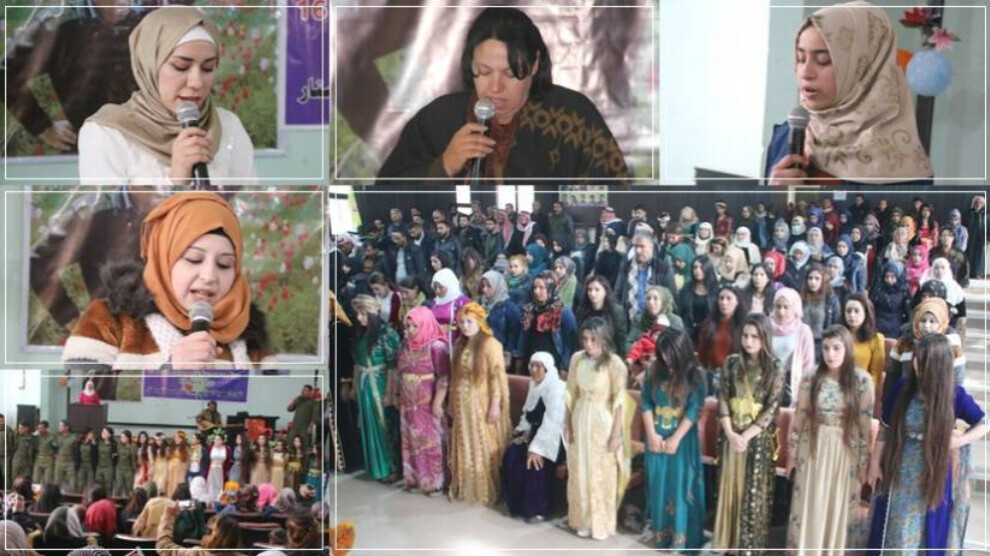 The 16th foundation anniversary of the women's umbrella organization in Northern and Eastern Syria, Kongreya Star, was celebrated in the Kobanê Canton on Wednesday. Images of Kurdish People's Leader Abdullah Öcalan and three women who lost their lives in Halinja as well as flags of Kongreya Star and YPJ were hung in the cultural centre in the Sirrin Region where the celebration took place.
The event, in which several women participated in their national costumes, started with a minute of silence. Sirrin District Kongreya Star Coordination member Buşra Xilas spoke at the event, followed by the speeches of Chalabiya Assembly member Xedîce El-Faris, Qamer Ebo Noma and Xoza Ehmed on behalf of Education Committee.   
IT IS TIME TO STOP KILLERS!
Stating that the Kongreya Star represents the identity of all women, Buşra Xilas said, "Today is a historic and important moment for all women. With the establishment of the Kongreya Star, women have marched towards freedom. Women finished off the ISIS gangs by mounting great resistance and struggle. They have continued their struggle unceasingly until today. At the same time, women continue their struggle against the patriarchal mentality. Today, in the occupied areas, women face torture, rape and other forms of violence. We call out to all women from here; It is time to stop killers of women with one voice. To this end, let's improve our struggle areas."
'LET'S SECURE OUR ACHIEVEMENTS'
Speaking after, Chalabiya Council member Xedîce El-Faris said: "Kongreya Star is the main source of freedom and life. Kongreya Star was established as a result of the resistance and the struggle of revolutionary women. Women made great efforts to gain their freedom, rights and own identities. We have to expand our struggle areas to protect these efforts. Many women have been educated thanks to Kongreya Star, and today women are active in every aspect of life. "  
'OPPRESSED WOMEN ARE EVERYWHERE NOW'
Xoza Ehmed said: "Thanks to the revolutionary women, women's organizations were established and formed committees and movements in all areas of life. After the Sirrin Region was liberated from ISIS gangs, Arab women also took part in women's organizations. In the mentality of Arab men, women could not take part in institutions and other works. Women imprisoned in homes are struggling in all areas of life today."
Congratulatory messages were read out at the event following the speeches. The event was concluded with poem performance by Xalid Ehmed and Ebdurehman Kino and halay dance was accompanied by the melodies of Arif Qehro.