Jailed co-mayor of Amed, Kışanak sends a letter to women
We need to win this election to win our future, says jailed Amed co-mayor.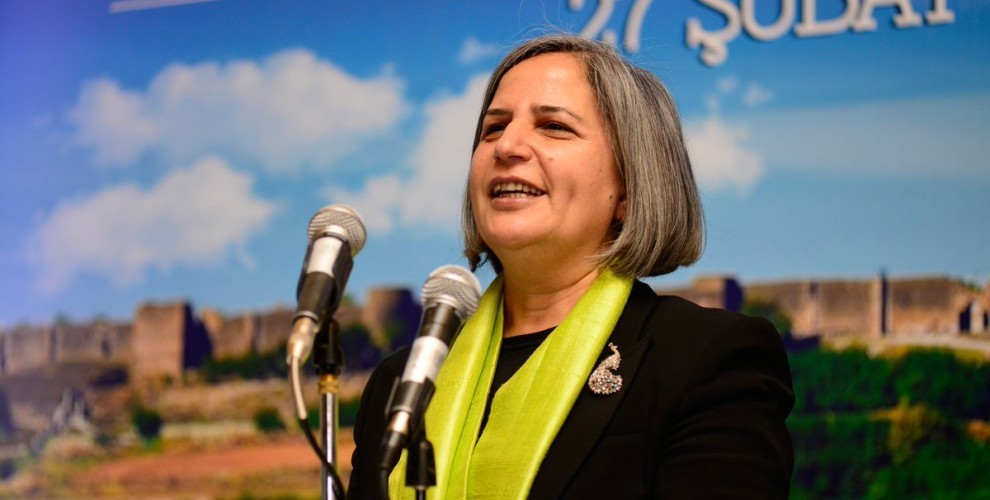 Amed co-mayor Gültan Kışanak, who is in Kandıra prison, one of the thousands of hostages of the AKP regime, has written a letter addressed to women less than two weeks before the 24 June elections.
In her letter Kışanak writes: "Politics used to ignore women. We didn't hear many promises to women in the squares. Yet, nowadays, in this election campaign we listen to many promises to women from parties that haven't opened their lists to women".
Kışanak continues: "We know from experience that all these promises are forgotten after the elections. In addition, promises are always a "bribery". More importantly, women do not just want to be elected, women want to join governance. They want to have the right not only to "elect" but also to be a "full citizen". It is a fact that HDP is ahead of other parties in this respect".
In the HDP, Kışanak, argues, "women enjoy big gains which they have achieved with their labor. Now is the time to mark politics with the women's stamp. They wanted to show that politics is a risky business by arresting us and to scare all politicians away from politics. We are not afraid, we are not afraid. We are on our way: 'We are ready to pay for our future, our freedom, to earn our rights'".
Kışanak adds: "Yes politics means taking responsibility, making sacrifice, taking risks. But to stay out of politics is to accept subordination to men, exploitation, oppression, and slavery".
Every day, reminds Kışanak "at least one woman is murdered. The country has been turned into a huge prison. Even advocating peace has been labeled 'terrorism'. If this is not stopped, tomorrow more catastrophes will be awaiting us".
Kışanak writes that "to save our future, to protect women's achievements, to move forward" it is necessary to join the election work. "There is not a moment to lose. We cannot see much of the HDP women candidates and women's politics reflected in the media, even though the HDP is the party with the most equal representation, the party with the highest number of female candidates. We know the attitude of the media, not just towards the HDP but also women. We know that sexism is added to the attitude towards HDP. But we have to find a way to revert this blackout".
Kışanak made a call to young women: "Please do not leave this work only to candidates and actively involved women in the party. The true owners of the women's liberation struggle are the millions of women, each one with her subjectivity. We live our future today, in this moment. Today, we need to win this moment in order to win our future".
Reminding the words of HDP co-chair Pervin Buldan, who said that the party is establishing an alliance with women, Kışanak says: "We want to see this in the campaign and the election results. You can say, 'Come and do it if it is that easy'. Believe me, we are not here doing nothing. We are trying to persuade even the flying bird to vote for HDP and Demirtas".