HPC-Jin holds annual meeting in Qamishlo
Delegates of the Women's Social Defense Units (HPC-Jin) gathered for their annual meeting in Qamishlo.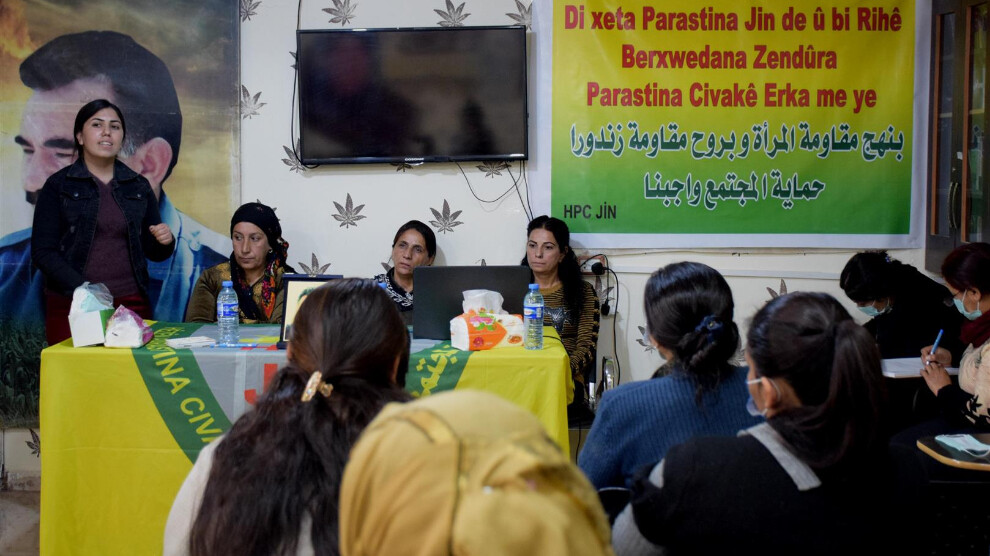 The annual meeting of the Women's Social Defense Forces (HPC-Jin) took place in Qamishlo. HPC-Jin is the autonomous women's wing of the HPC affiliated to the defense commissions of the grassroots councils, which provide security and defense for the city's neighborhoods. They are organized in a decentralized manner and form a line of defense against attacks behind the front lines. The meeting gathered about 70 delegates from different towns in and around Qamishlo and Rimêlan. The meeting was held under the slogan "It is our duty to protect society in the spirit of women's self-defense and Zendûra resistance."
After a minute of silence for the martyrs, Rihan Loqo of the Kongreya Star Women's Movement Coordination said, "This meeting shows the level of women's struggle to assert and defend our rights. This meeting comes at a crucial time when Kongreya Star has implemented the second phase of the campaign 'Time for Freedom'."
Rihan Loqo stated that HPC-Jin is fighting to protect women from patriarchy and defend freedom and justice. She added, "We hope our meeting will end with resolutions that serve women and guarantee their rights." After reading texts by Abdullah Öcalan on women's resistance, the HPC-Jin's annual report for northern and eastern Syria was assessed.
The base of women's defense is expanded
A number of decisions emerged from the meeting. Accordingly, autonomous women's academies will be opened in order to develop and organize more strongly the culture of self-defense. Self-defense training is also to be held in the neighborhoods and the streets. Training for girls in karate and taekwondo will be provided at schools. Women's councils will form their own social defense councils. Civil defense institutions are also to be opened in many places.