HDP Women's Council on the detention of MP Semra Güzel: "We will not bow to this dirty politics"
The HDP responded to the detention of MP Semra Güzel and the media smear campaign against the Kurdish politician.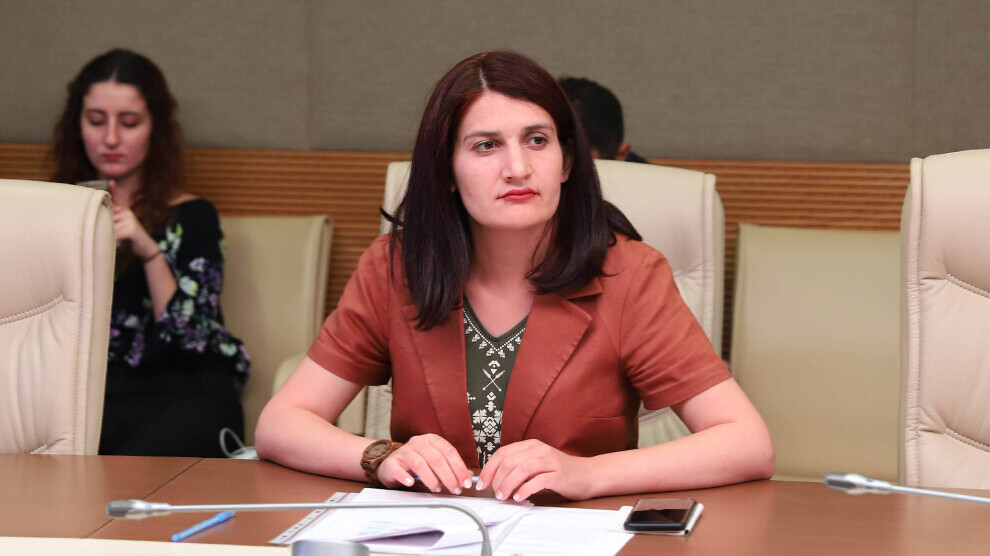 HDP MP Semra Güzel, who was detained on Friday, has been taken to the Istanbul Palace of Justice in Çağlayan for a prosecution hearing after police interrogation. The Peoples' Democratic Party (HDP) is protesting against the detention and the media smear campaign against the Kurdish politician.
In a written statement, the HDP Women's Council declared its united solidarity and described Semra Güzel as a representative of women and an elected representative of the people. The male alliance of AKP and MHP identified her as a target following its concept of distracting attention from its multi-layered crisis through attacks. To the Turkish Interior Minister, who publicly praised the detention of Semra Güzel as a successful operation, the Women's Council appealed that instead of arresting women, they should rather arrest murderers of women. "You cannot cover up your own crimes with agitation and fuelling nationalism, racism, sexism and misogyny. As women, we will not bow to this dirty politics."
The HDP executive board pointed out in a statement that the Turkish government is using the detention of Semra Güzel for propaganda purposes: "Contrary to what was claimed, our MP was not detained in Edirne, but in Istanbul. The reports that she wore a wig and changed her appearance do not correspond to reality. Until today, all our friends have been resisting any kind of attack. They are waging a courageous struggle and there is no question of them withdrawing and running away from the consequences. Of course, we do not trust the government-controlled judiciary and do not assume that they will make an independent decision. However, we are a party that has made the struggle against the mentality and apparatus of the AKP its basic principle."
Proceedings against Semra Güzel
Semra Güzel's parliamentary immunity was lifted in March. The 38-year-old is being tried for "treason" and "membership in an armed terrorist organisation". This was preceded by an elaborate defamation campaign against the Kurdish politician and trained doctor, which was apparently directed by the Ministry of the Interior.
The starting point of the smear campaign, described by the HDP as a "smear theatre", are photos showing Güzel with her former fiancé, the guerrilla fighter Volkan Bora (Nom de Guerre: Koçero Meletî). The photos were taken in a guerrilla camp in southern Kurdistan (northern Iraq) in 2014, when a delegation from the HDP visited the PKK with state knowledge as part of the peace process to discuss further steps towards de-escalation. Meanwhile, Semra Güzel's loss of parliamentary immunity in the "Kobanê trial" in Ankara has found its way into the files as supporting evidence against the more than one hundred defendants.