HDP Women's Council launches "Justice for Women" campaign
The HDP Women's Council has launched its "Justice for Women" campaign in Ankara amid a massive police blockade. "We see here today how necessary our campaign is," said MP Ayşe Acar Başaran.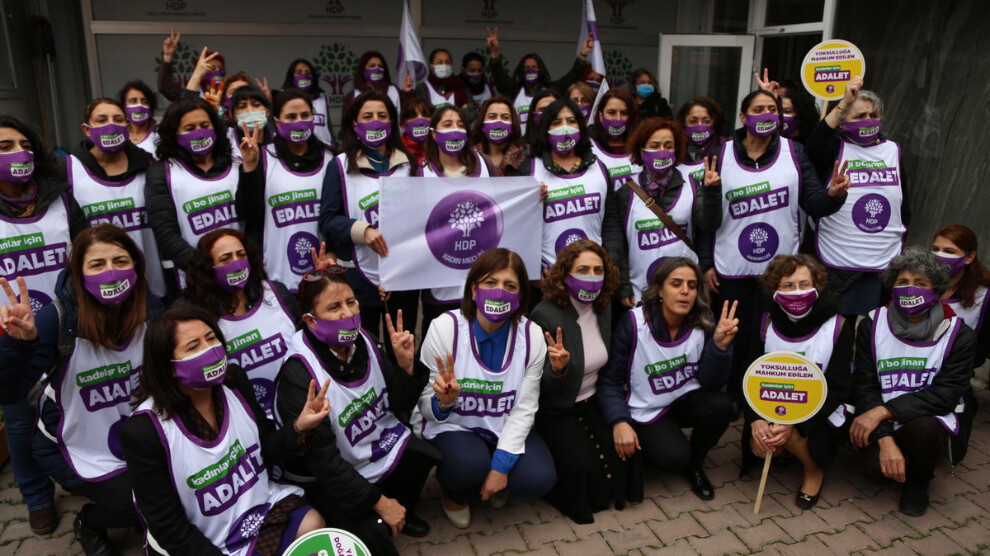 The Women's Council of the Peoples' Democratic Party (HDP) has launched a new campaign in Ankara and published the action program. The program under the slogan "Justice for Women" is part of the campaign "Justice for All" proclaimed by the HDP on Monday.
The delivery of a press statement in Kuğulu Park in Turkish capital was massively obstructed by the police. Only members of parliament were allowed to enter the park, while all other members of the Women's Council were pushed away. In order to block the view of journalists, the police forces present raised their shields. MP Ayşe Acar Başaran, spokesperson for the Women's Council, finally made a statement in the police encirclement and said, "We see here and now how necessary our campaign is. Law and justice are being trampled on in this country. We will not refrain from continuing to demand justice for women."
Afterwards, the deputies went to the HDP headquarters and made a statement in front of the building together with the other members of the Women's Council. "We don't want men's justice; we want real justice for women. We demand justice in the face of the prevailing sexist, militaristic and anti-women policies," the statement said. It noted the campaign is directed against attempts to silence organized women. "Elected women politicians are in prison because they make democratic politics and fight for women's liberation. Because they are not on trial as defendants but as plaintiffs, they continue to be held in political hostage," Ayşe Acar Başaran said.
The campaign is directed against isolation, war and injustice. A special focus is feminicide and the necessary self-defense of women. The economic crisis in Turkey, which affects women in a special way, is also denounced.
High-profile street actions and events are planned in the scope of the campaign. On February 19, a rally is to be held in front of the Çağlayan Courthouse in Istanbul to demand the implementation of rulings by the European Court of Human Rights. On November 23, a rally against feminicide is planned in front of the Ministry of Family Affairs in Ankara. The program also includes meetings with other women's organizations in Amed (Diyarbakır), Istanbul and Ankara.