Fidan Doğan commemorated at her grave
Fidan Doğan, one of the three Kurdish revolutionaries who were murdered in Paris, was commemorated at her grave in Elbistan district in Maraş province in southern Turkey.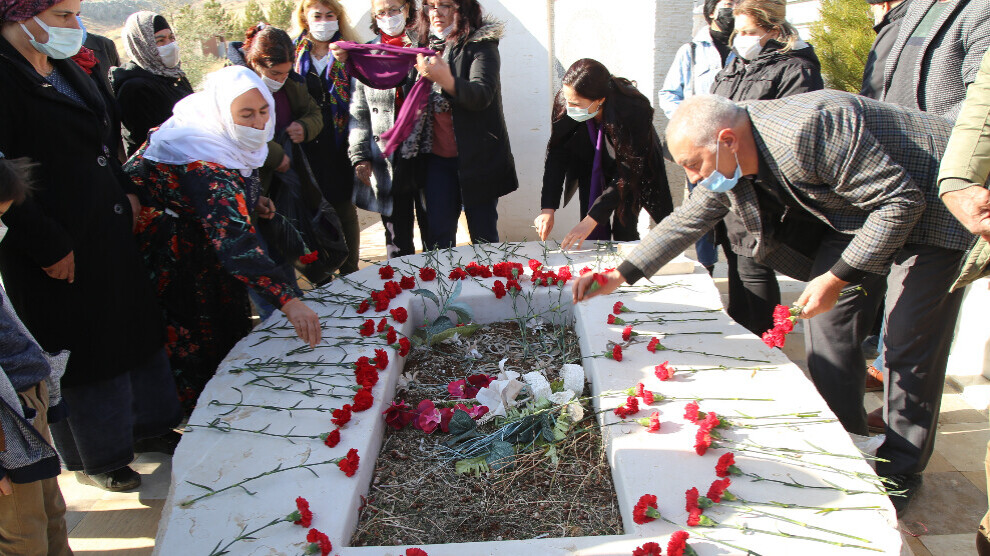 Kurdish revolutionary Fidan Doğan, who was murdered along with Sakine Cansiz and Leyla Şaylemez on January 9, 2013 in French capital Paris, was commemorated at her grave in Elbistan district of Maraş. People's Democratic Party (HDP) Urfa MP Ayşe Sürücü, Peace Mothers, HDP administrators and Doğan's relatives attended the commemoration held in the cemetery in Hançıplak (Xopon) neighborhood.
Before the memorial, the neighborhood and the cemetery were blockaded by the police and gendarmerie (military police). The memorial event, in which women attended with purple scarves, was recorded with a drone of the military police.
'WE WILL CONTINUE TO STRUGGLE'
Speaking at the commemoration, HDP MP Ayşe Sürücü stated that France has not taken any legal steps to enlighten the massacre, saying: "They did not reveal the murderers. This massacre was carried out in front of the whole world in a planned way. And 3 women revolutionaries were killed in the middle of Paris. The French state officials of the time should see themselves as responsible for this massacre. Let them shed light on this massacre. Let them fulfill their responsibilities before history. Sakine, Leyla and Fidan contributed to the struggle of the Kurdish people with their stance and struggle. We will continue to fight in their footsteps."
After the speech, carnations were left on Doğan's grave. The memorial ended later with chanting the slogan "Jin, Jiyan, Azadi" (Woman, Life, Freedom).