Feminist Pascale Martin: We support Leyla Guven
Les Femmes Solidaires Dordogne Chairwoman Pascale Martin said she admires the Kurdish people's resistance and said, "We support the hunger strike Leyla Guven is on. We know that she is now in the dangerous days."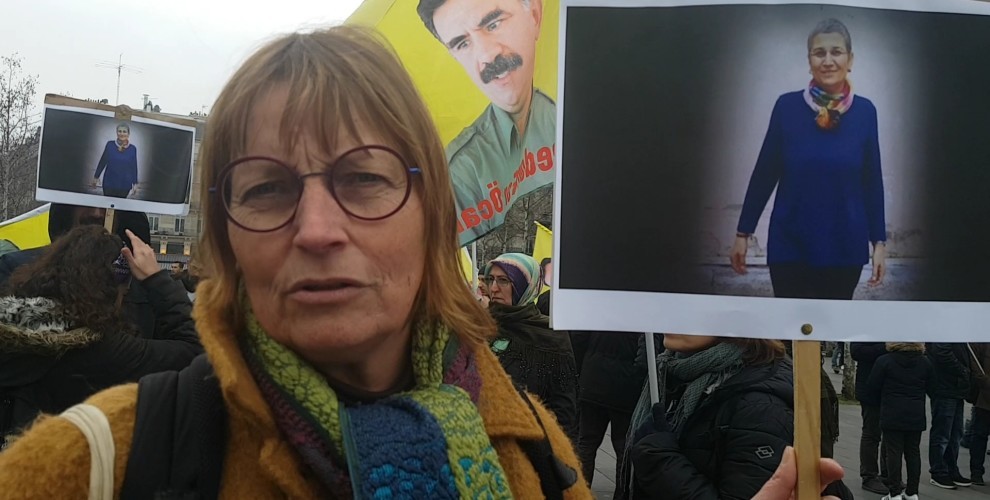 Les Femmes Solidaires (Women in Solidarity) Dordogne Chairwoman and France Executive Council Member Pascale Martin, who also attended the march and rally against the isolation and in support of Leyla Guven in Paris, spoke to the ANF.
"IN DANGEROUS DAYS"
"We support Kurdish women and Leyla's hunger strike. We know that she is now in the dangerous days," said Martin and continued:
"We have been in solidarity with Kurdish women who have been fighting with great energy for a long time. We hope that us standing together will change some things.
There was great protest against people including women and children being arrested under unacceptable conditions in the Les Femmes Solidaires administration meeting. It's impossible not to do something. Meanwhile, there is a vital danger in this courageous fight Leyla is in.
Some things need to change. I admire the Kurdish people's resistance against the Erdogan dictatorship."
"WE WILL PARTICIPATE IN KURDISH PEOPLE'S EVENTS"
Martin pointed out that they also show solidarity with the hunger strike in Strasbourg and said: "It is not set exactly yet, but we are in the process of arranging a visit. I send them all our solidarity now. We will continue our connections with the Kurdish people and stand with them in all their events, participating in them together."
Les Femmes Solidaires Dordogne Chairperson Pascale Martin said France-Kurdistan President Sylvie Jan proposed a campaign to send letters to political prisoners and added that they "will do their part in this effort as well".