Feminist night march in Istanbul
The traditional feminist night march for March 8 has taken place in Istanbul. Thousands of women have turned Taksim Square into a purple sea of flags and marched towards Karaköy under the slogan "Feminist revolt instead of obedience - everywhere".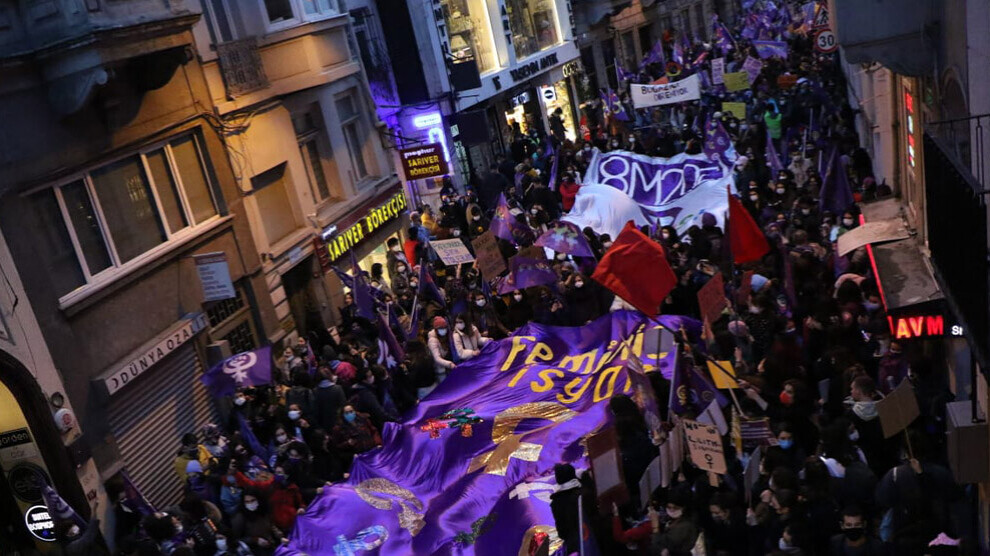 The feminist night march, which the Feminist Collective has been organizing since 2003 on the evening of March 8 to mark International Women's Day, has taken place in Istanbul. Under a sea of purple flags and their colorful dresses, signs and banners, thousands of women march from the cordoned-off Taksim Square towards Karaköy. Between loud concerts of whistles, the slogans "The nights, streets and squares belong to us", "The world would shake if women were free", "Women, life, freedom", "No male justice, but real justice" and "We are not silent, we are not afraid, we do not bend" resounded over and over again. The central motto of this year's march was "Feminist revolt instead of obedience - everywhere".
Deputies from the HDP, including co-chair Pervin Buldan, party spokeswoman Ebru Günay, Züleyha Gülüm and Oya Ersoy, also participated in the feminist night march. There was extensive dancing at the start, and the march was introduced with a statement read out in Kurdish, Turkish and Arabic.
"The Feminist Revolt is everywhere," was the first sentence. Immediately after, it was emphasized that the source of women's strength is feminist solidarity. In defiance of the repressive political atmosphere, women did not let themselves be deprived of taking to the streets and demanding their rights. "With our laughter, our anger, our rebellion and our resistance, we are here, at the 19th Feminist Night March. We stand side by side and we are strong thanks to our feminist solidarity."
We are against precarious life that results as a consequence of the neoliberal system, it continued. "Since the Corona pandemic, the structural violence against women has become even more visible. The patriarchy tries to dominate at every opportunity, whether at home, at work or on the streets. Feminism gives us the power to say no, to protect our own lives, bodies and work, and with this power we rebel and fight in all aspects of life. We protect ourselves, our lives and our right to self-determination."
The forms of women's rebellion are as diverse as their realities and living spaces. The common goal is an equal life in peace, free from patriarchy, oppression, exploitation, sexual violence, homophobia, transphobia, discrimination, racism and capitalism. The struggle for liberation will continue at all levels of life; at home, at work, in universities, on the streets."