«Fear us women» film screening in Moscow
On April 8th, 2018, a screening of the film Fear Us Women was held at the Moscow bookstore by anarchists.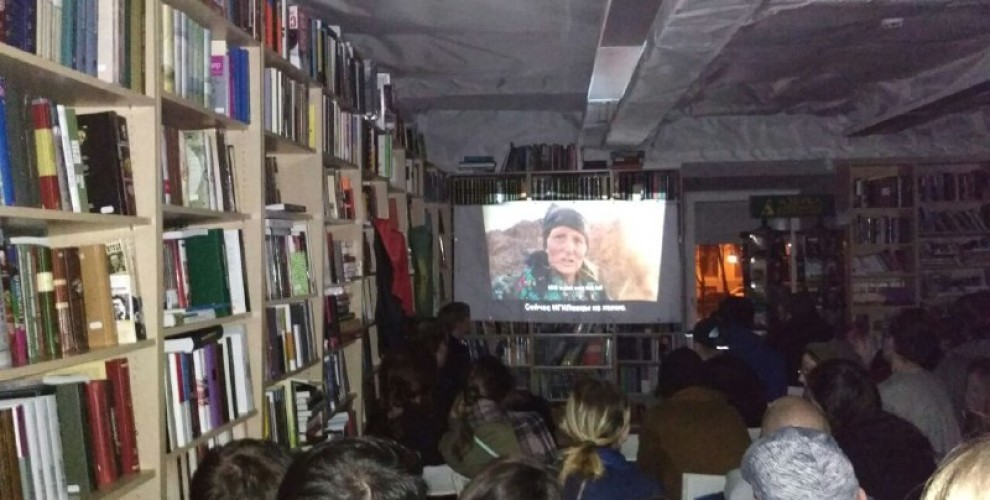 Moscow bookstore "Falanster" hosted a screening of the film Fear us women on April 8 to support Afrin and the Kurdish resistance. Many people from different cities of Russia and even different countries of the world gathered on Sunday evening to watch and discuss the documentary film Fear Us Women and to raise the issue of the current situation confronting women in occupied Afrin.
The film, directed by Hanna Bohman, Canadian internationalist fighter of the Women's Protection Units (YPJ), shows the inner workings of the units, defeated the troops of patriarchal society ISIS.
Synopsis of the film from the official site:
"Fear Us Women is a most intimate look inside the brave female soldiers fighting one of the most dangerous wars on the planet. The film's title comes from an Arabic tattoo on Hanna's arm: "Fear us women o' enemies of humanity, for you who die by our hand will burn in Hell forever."
Now Turkey, with the second largest army in NATO, and its jihadist allies from ISIS and other gangs, after launching a frontal attack on Afrin, have occupied the Kurdish autonomous canton Afrin.
There continue to be troubling reports of massive kidnaping and a terrifying and systematic pattern of sexual abuse by the Turkish army and its allies. Thousands of women from Afrin were treated in a most despicable and humiliating manner of large-scale violations of human rights. Those activities were taking place in full view of the international community. The Turkish state and its jihadist allies are deploying feminicide and genocide, began with the permission of Russia. It bear repeating that Russia has redeployed its forces from Afrin one day before Turkish invasion.
The discussion also covered aspects and possible consequences of Donald Trump's declarations about the withdrawal American troops from the Middle East.
During the debate after the movie screening, the following issues were discussed: what mechanisms and tools for regular internal assessment of the women's emancipation exist and where did it actually come from? "Jineolojî" ("the science of women") is the new form of feminism based on gender equality and the achievement this equality between women and men through the practice. The term was coined by Abdullah Öcalan. The Kurdish leader often suggested that the level of woman's freedom determines the freedom level of the society. The example of YPJ illustrates the way of implementation of the women's emancipation in the Middle East and around the world as well.
The Kurdish resistance is deeply embedded in hearts of many people all around the world. Because it represents a fortitude of all Kurdish people, heroines and heroes from YPJ and YPG, an inherent zeal for freedom and the struggle against all kind of forms of oppression, the struggle of rebel and liberated women.