Family of YPJ martyr for Afrin: "Her head was always held high"
The family of YPJ member Rehşan Ürper who lost her life resisting in the Afrin attacks still call their daughter "Kurdistan" and say "her head was always held high".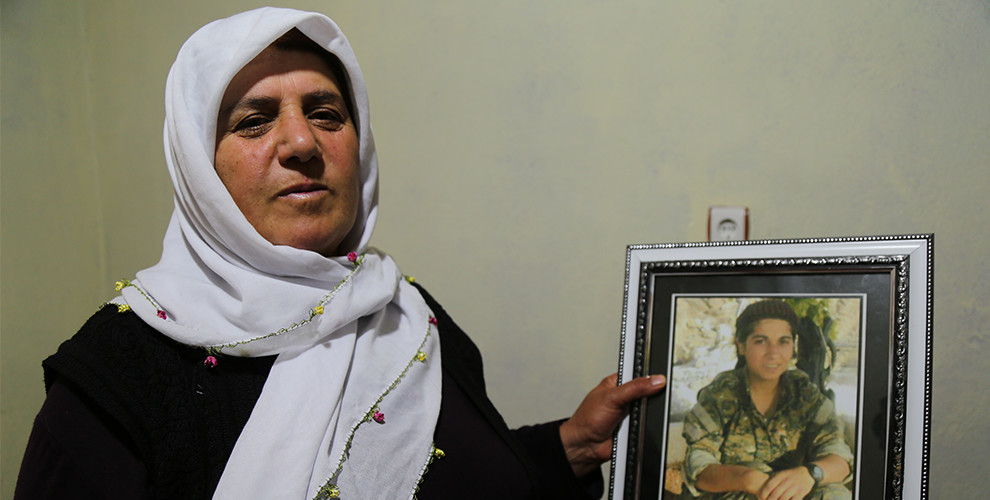 Yekîneyên Parastina Jin (YPJ) member Rehşan Ürper (Asmîn Kadox Goyî) lost her life on March 15 while the attacks against the Afrin Canton continued.

YPJ member Ürper was born in the Özerli (Çeman) village of Şırnak's Uludere district, and got to know the oppression against the Kurdish people when she was young. Her family appealed with the Civil Registry twice to name her "Kurdistan", but were denied, so the little girl was named Rehşan.
ÜRPER STILL CALLED KURDISTAN
Father Hadi was forced to work as a village guard for 3 years, and Ürper joined the Kurdish Freedom Movement on May 10, 2015, when she was a freshman in the Şırnak University Accounting Department. Ürper took the women who led the liberation of Kobanê as an example for herself and turned towards Afrin, where she lost her life on March 15. Ürper's family spoke about the struggle their daughter waged, who they still call Kurdistan.

MOTHER ÜRPER: HER HEAD WAS HELD HIGH EVERYWHERE
Mother Şarkiye Ürper got emotional as she spoke of her daughter's struggle: "At home and at school, she was always dedicated to her work." Şarkiye Ürper said her daughter worked various jobs to stand on her own two feet: "Her head was always held high everywhere she went. When Rewşan was born we wanted to name her Kurdistan, but the Civil Registry didn't approve of this name. So we went back another time. But it was rejected again."
"WE LEARNED LATER THAT SHE JOINED"
Ürper spoke about her daughter's childhood too: "My daughter used to help me with everything. When I showed her how to make the victory sign, she had started doing it instantly. When we would say we should sit at home with our children and live our lives, she told us about the people of Kobanê and what they went through with the attacks and scolded us."

Behican Ürper said her sister had shared her happiness when she was accepted to university with her and said: "Rewşan didn't share with the family that she joined. We learned later on that she had quit school and joined."

"MY DAUGHTER WAS BORN AS I QUIT THE VILLAGE GUARD"
Father Hadi Ürper said they had experienced severe pressure when they lived in the village in the '90s and he had been forced to work as a village guard for 3 years: "Back then nobody was alowed to go to the highlands, tend to their lands or take their animals grazing. The state gathered all the men in the village and forced them to become village guards. So we had to become village guards to avoid damage to our families, homes and orchards. My daughter was born as I quit the village guard. We named her Kurdistan but the state didn't accept that name.
"SHE WOULD NEVER DO SOMETHING THAT WASN'T RIGHT"
"My daughter Kurdistan would never do something that wasn't righteous and correct. She would never stray to a wrong path," said Father Ürper, and added: "Where we live is a tough place. For that, old people have a lot of trouble. My daughter would sometimes carry the elderly mothers on her back so they could go home. She would never do anything that wasn't rightful, just and honest. At home, in school and in social life, she always befriended the right kind of people and she was always known for her exemplary character."