Eight YPJ fighters killed by Turkish drones in North-East Syria since April
Eight YPJ fighters have been killed in Turkish drone attacks in north-eastern Syria since April. Women's organisations are demanding the closure of airspace to Turkey, which is apparently taking revenge for the successful fight against ISIS.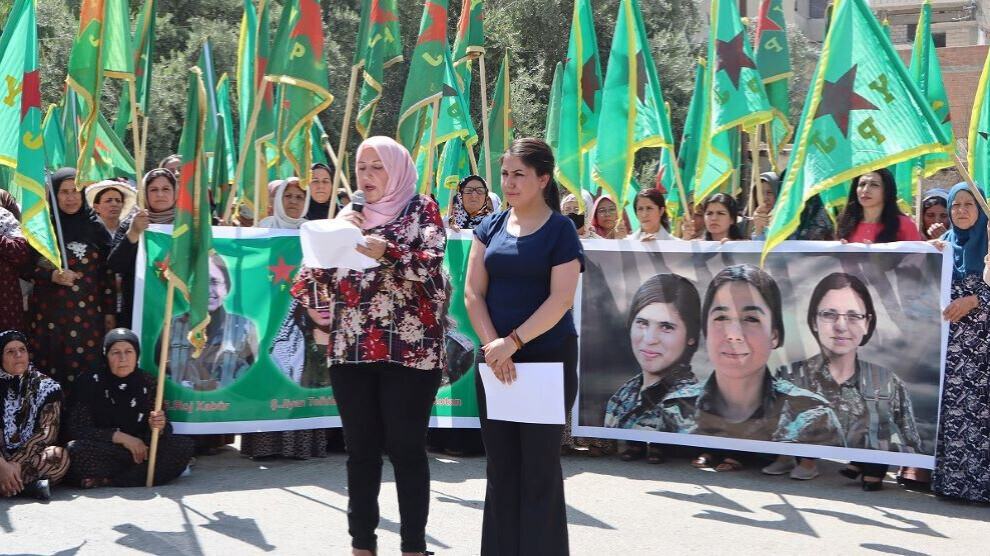 In its constant attacks on the autonomous region of northern and eastern Syria, the Turkish state specifically targets women, especially those fighting against the terrorist organisation "Islamic State" (ISIS). At the same time, it aims to weaken the fight against ISIS and prevent a democratic society led by women. Women's organisations protested in front of the UN mission in Qamishlo on Tuesday against Turkey's recent drone attack on YPJ commanders. The attack on 22 July killed Jiyan Tolhildan, a female commander of the YPJ and YAT counter-terrorism units and a member of the Syrian Democratic Forces (SDF) military council, YPJ commander Roj Xabûr and and YAT fighter Barîn Botan.
"The airspace must be closed"
At the protest in Qamishlo, an open letter to the United Nations High Committee for Syria, the International Coalition against ISIS and the Central Command of the Syrian-Russian Armed Forces was read out and then handed over to the UN representation. The letter, signed by numerous Syrian political parties, reads in the introduction: "Although the Turkish state is not currently carrying out its threats to launch a new military offensive to occupy our territories, it has recently carried out brutal attacks on northern and eastern Syria. Every day, reconnaissance and fighter planes penetrate the airspace over northern and eastern Syria, which is controlled by the international coalition and Russia. These attacks by the Turkish state on our territory are war crimes under international human rights and legal standards."
The Turkish state is targeting women who have taken a leading role in the fight against ISIS. This weakens the fight against terrorism. Jiyan Tolhildan, as a YAT commander, was part of the joint operational command of the SDF and the international coalition in the fight against ISIS, the women wrote: "Therefore, we call on the international coalition to take serious steps against the war crimes committed by the Turkish state using its airspace and to close the airspace in northern and eastern Syria."
Deadly drone attacks on women in north-east Syria
In the space of two years, twelve women leaders have died in Turkish drone attacks in north-eastern Syria. Since the crushing of ISIS' territorial rule in Syria in spring 2019, Turkey has been targeting women who are taking a leading role in Rojava's revolution and in fighting Islamist structures.
On 23 June 2020, Zehra Berkel and Hebûn Mela Xelîl, both members of the Kongra Star coordination, and their host Emine Weysi were killed by a Turkish killer drone in the village of Helinç near Kobanê.
On 19 August 2021, Sosin Birhat (Sosin Muhammed), a member of the YPJ and SDF command, was killed in a drone attack on the Til Temir military council.
On 21 April 2022, YPJ commander Dilar Heleb and fighters Ronahî Kobanê and Kobanê (Cihan Nîdal Êlî) were killed in a drone attack on their car in Kobanê.
On 30 May 2022, a car was bombed by a Turkish drone in Qamişlo. The YPJ fighter Mizgîn Botan and the civilian Kesra Milek were killed, while fighters Dîcle Cûdî and Hêvîdar Dirbesiyê survived with injuries.
On 2 July 2022, a deadly drone attack took place on Mizgîn Kobanê, commander of the SDF and YPJ, in Raqqa.