Demonstrations across Germany: Together against fascism
On the anniversary of the liberation from Hitler's fascism on May 8, Kurds protested against Turkish fascism and expansionism in Germany, including in Kassel, Düsseldorf, Saarbrucken, Hanover, Mannheim and Stuttgart.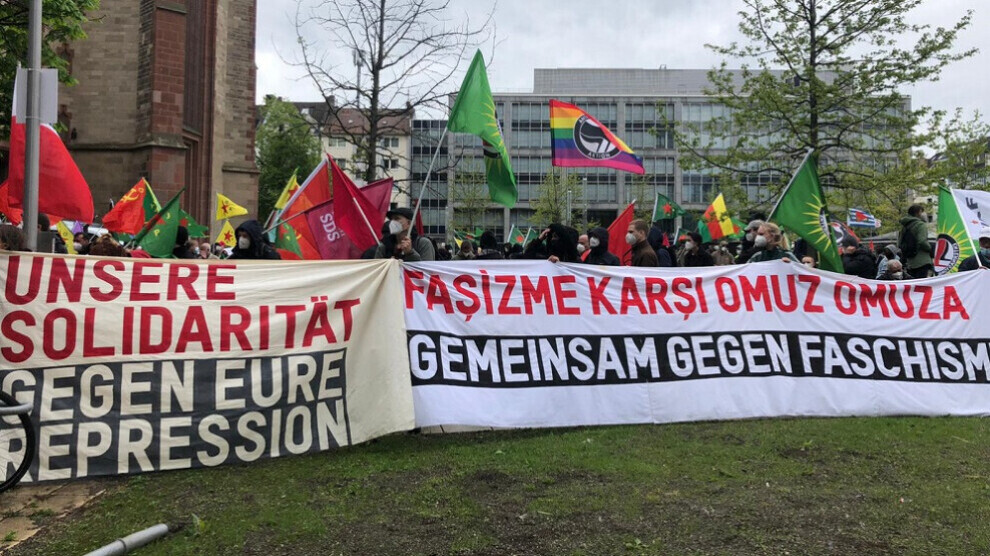 On Saturday, protests took place across Europe against the annexation of Afrin and the invasion of the guerrilla areas in southern Kurdistan (northern Iraq). Among others, the Kurdish umbrella organization KCDK-E had called for the protest. In Germany, the protest against Turkish fascism and expansionism was also carried into alliance demonstrations on the anniversary of the crushing of National Socialism, including in Kassel, where a representative of "Women Defend Rojava" gave a speech.
In Düsseldorf, an alliance demonstration took place under the motto "All together against fascism", for which, among others, the Kurdish associations FED-MED and YJK-E, Rote Hilfe, VVN-BDA, the Alliance of Democratic Forces (DGB) and anti-fascist groups had called for participation.
The demonstration began at 3 p.m. with speeches on the church square. In a statement by Azadî association, attention was drawn to the criminalization of the Kurdish movement in Germany. Afterwards, the crowd marched with the slogan "Shoulder to shoulder against fascism".
At the final rally in Oberbilk, FED-MED provided information on developments in Kurdistan since Turkey's occupation of Afrin in spring 2018 to the current cross-border military operation in the guerrilla area in southern Kurdistan.
In Saarbrucken, Kurds protested in front of the Europa Galerie against the isolation of Abdullah Öcalan and the Turkish invasion of the Medya Defense Zones.
A march was staged in Hanover from the Turkish consulate to the Steintor. Speeches condemned Germany, the U.S. and other Western countries for their backing of Turkish fascism in Kurdistan.
In Mannheim, a march was staged from Wasserturm to the Paradeplatz. Speakers included Kurdish politician in exile Faysal Sariyildiz.
A demonstration in Stuttgart protested against Turkey's occupation attacks on Kurdistan and the renewed offer of millions of dollars in bounties for tips on the whereabouts of leading PKK members.