'Counterpower' meeting at the Rojava Parliament in the Netherlands
A Counterpower' meeting was held at the Rojava People's Parliament in the Van Abbe museum in Eindhoven, the Netherlands.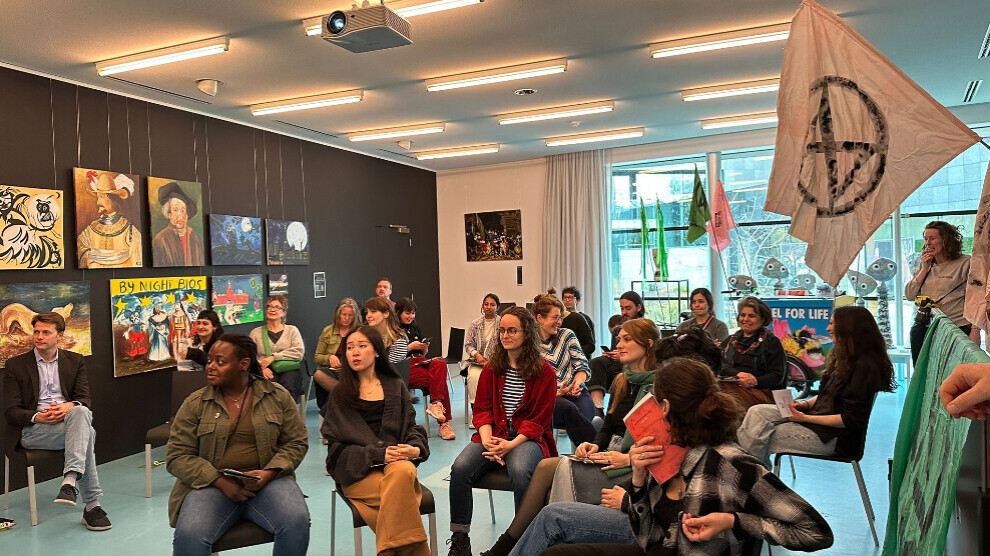 Museum as Parliament is a reconstruction of the People's Parliament of Rojava in the Van Abbemuseum in Eindhoven, the Netherlands, developed by Studio Jonas Staal in collaboration with the Democratic Federation of North-Syria and the Kurdish Cultural Foundation Eindhoven.
A Counterpower' event was held at the museum and training courses by the Kurdish Women's Movement (TJKE) and Stichting Ecowomen, Extinction Rebellion and Jina Collectief were given.
Democratic confederalism is also promoted in the People's Parliament, where various events and meetings have been held since the year it was founded.
About Counterpower
Counterpower is a series of events which take place in the People's Parliament of Rojava in the Van Abbemuseum in Eindhoven, where the stateless democracy of the Rojava Revolution in Northern-Syria takes central stage. The Counterpower series of workshops and trainings is organized and programmed by Serda Demir and Iliada Charalambous. The Museum as Parliament programming committee consists of: Murat Memis, Serda Demir, Iliada Charalambous,Jonas Staal and others.
About the People's Parliament of Rojava
Just like the original People's Parliament of Rojava, the installation is inspired by the political model of democratic confederalism – or "stateless democracy," in the words of Kurdish revolutionary Abdullah Öcalan – based on local self-governance, gender equality and communal economy. Its circular shape embodies the ideal of collective, decentralized democratic representation, its pillars represent the key values of stateless democracy, such as "gender equality" and "social ecology," and its rooftop consists of a confederation of fragments of flags that belong to the local organizations of the Rojava region.
Museum as Parliament aims to introduce the ideals of the Rojava revolution to a wider public and build alliances with emancipatory political organizations, civic platforms, activist groups and cultural workers, from Kurdistan to the Netherlands. In a time of increasing democratic crises that have turned our parliaments into theaters, the project proposes to turn the theater – the museum – into an alternative people's parliament instead.