"Bêrîvan Zîlan was a pioneer in the women's liberation struggle"
Guerrilla commander Bêrîvan Zîlan, martyred in a Turkish air strike, was a pioneer in the women's liberation struggle. Ronahî Serhad of PAJK pays tribute to her struggle of over thirty years.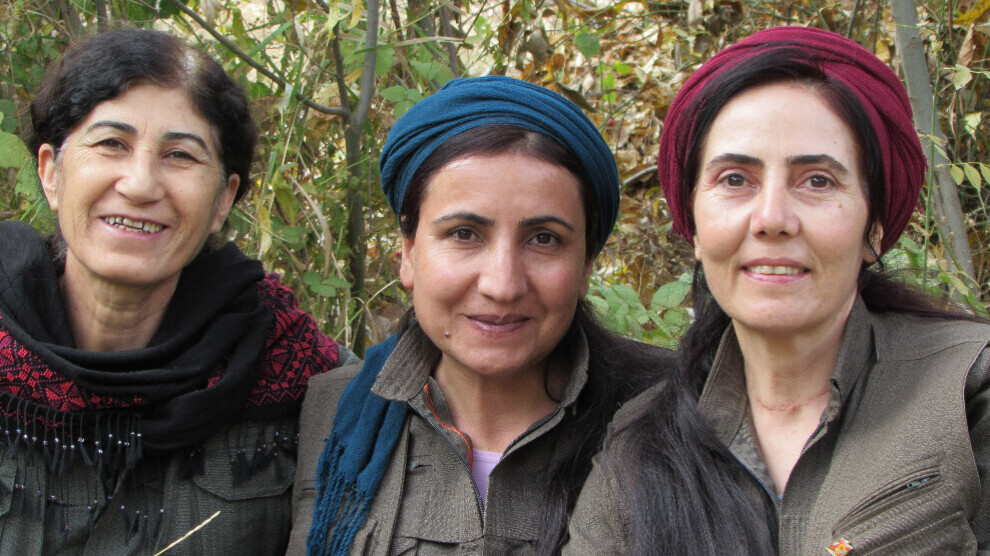 Ronahî Serhad, a member of the coordination of the PAJK (Party of Free Women in Kurdistan - Partiya Azadiya Jinê ya Kurdistanê), paid tribute to the long struggle of Bêrîvan Zîlan. Bêrîvan Zîlan was a guerrilla commander and member of the PAJK party council. She died in a Turkish air strike on 17 June in the guerrilla-held Medya Defense Zones in southern Kurdistan (northern Iraq).
Ronahî Serhad told Jin TV that Bêrîvan Zîlan fought in many areas of Kurdistan, especially in the Zap, Avaşîn and Metîna regions. "Comrade Bêrîvan Zîlan has fallen. In her person, I commemorate all the martyrs with gratitude and respect and bow to her memory. In the reality of Kurdistan, the martyrs have great significance. All the martyrs have turned a new page in history. They illuminate our future. As pioneers of freedom, we are indebted to them," said Ronahî Serhad.
Bêrîvan Zîlan fell because of betrayal, Ronahî Serhad stressed and continued: "But we have made a promise of freedom to our martyrs, we will live like them, and fight like them. Comrade Bêrîvan has taken the line of Rêber Apo [Abdullah Öcalan] as the basis for her life and struggle since she joined the fight in 1991. She dedicated herself to freedom and has done pioneering work both in the mountains of Kurdistan and in other areas. It has not been easy to be in the struggle since 1991. She has successfully fought against great difficulties for years.
Because of the massacres in Kurdistan, especially in Geliyê Zîlan, Comrade Bêrîvan had great anger and hatred towards the enemy. She was attached to Rêber Apo with great love. Therefore, his physical freedom was one of her most important goals. As activists of this party, we all fight for this goal, but Comrade Bêrîvan wanted to lead this struggle. She worked hard for it. 
Comrade Bêrîvan lived by the philosophy of freedom. She was very much loved by her friends. We have lost a very beautiful comrade, but for us the martyrs are not just history. We will always keep them alive.
Comrade Bêrîvan played a very important role in the development of the women's liberation struggle. Since her participation, she was a pioneer guerrilla, commanding in Serhed, Xakurke, Zagros and other regions in the Medya Defense Zones. At the same time, she made great efforts to train everyone. She also played a great role in mental transformation. She took great pleasure in teaching the history of Kurdistan and the Kurdish freedom movement at the Zeynep Kınacı Academy. When she gave lectures on the history of Kurdistan and our movement, she renewed herself together with her companions. She was in love with life. Love for one's country is an important principle in the PAJK. Comrade Bêrîvan created a great devotion to the land and its history and a deep understanding of women's freedom. She acted with the means of freedom against male domination and male violence. Where she was present, freedom was the standard in the struggle. She created women's organisation, women's unity and women's love.
As a women's liberation movement, we will never forget Comrade Bêrîvan. We know that the attack on her was against the women's freedom line. The enemy wants to destroy this line. But the line of freedom is now a philosophy, an attitude and a will in Kurdistan. It has spread everywhere, from the mountains to the cities, from Kurdistan to abroad. Nobody can erase this consciousness with military attacks. Our struggle will end in victory."
Photo: Elif Ronahî, Bêrîvan Zîlan, Ronahî Serhad