Arîn Mirkan, the legendary fighter of Kobanê
Those who knew Arîn Mirkan, who fought in the resistance against ISIS mercenaries in Kobanê and has a place in the memory of the Kurds and the people of the world, say of her: "Her morale and enthusiasm could be seen from afar."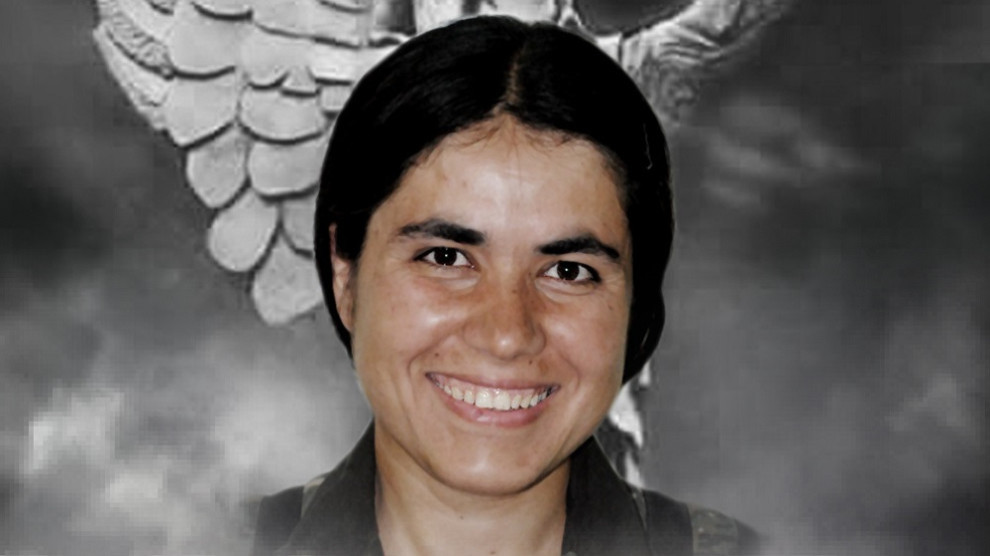 Journalist Ruken Cemal and YPJ Press Center member and war correspondent Rejin Lezgin spoke about YPJ fighter Arîn Mirkan, who became a symbol through the sacrificial action she carried out in the resistance against ISIS mercenaries in Kobanê.
Journalist Ruken Cemal: If you say Kobanê today, Arîn comes to mind. As a journalist, I had the chance to see Arîn Mirkan. When I saw Arîn, she was young. There is a photograph of that period, and you can see how strong a woman she is in her majestic posture. When we turn our lens to the fighters who were with Arîn, they all say that she was a very enthusiastic, excited, warm-blooded hyperactive fighter. Even when she looked from a distance, her hyperactivity, morale, enthusiasm could be felt. When she reached her comrades, she would draw all the attention and radiate positive energy with her sincere 'Hello Heval'.
I also worked with YPJ and YPG fighters for a few days, and the first thing that caught my attention was Arîn's active mood.
"What keeps you alive in this life, in this struggle? How do you live together, man and woman?" I asked, she gave the example of comrade Egid. Young Egid also had many dreams and desires to realize them. He wanted to be on the battlefield with impacience. After Egid was martyred as a result of an accident, Arîn promised, 'I cannot be comfortable in conscience without fulfilling the dream of my comrade' and fulfil his promise she did. In Arîn's eyes, all her comrades were sacrifices. Even in such a small example, one can see the spiritual beauty, sacrifice and love Arîn was expressing.
When I heard about Arîn's martyrdom, I wanted to get to know her more. Then I came across a program made about her. I understood from the statements of her family that Arîn was saying 'I must live big' since she was a child. This also shows her level of determination. She's a resister who has fulfilled her childhood dreams. If Arîn is remembered like that all over the world, this is an indication of the success of her promise.
We can understand what a rebellious woman she was in every photograph, especially in the photograph that was hung everywhere after her martyrdom. There was a photograph of Arîn in every march, at every action. Arîn's photograph is always in the hands of mothers, young people, and even children. A portrait of a heroic woman is as beautiful as this. The last photograph was drawn with symbols and pens in many places. Her photographs are still shown at many exhibitions.
None of us can forget the resistance in Kobanê, it is not possible. Every time we go to the streets that witnessed the resistance of Kobanê, we can see and feel how the price was paid with every step we take. When the people living there see us, they immediately start to describe those times. They tell the legends of Arîn Mirkan, Rêvan Kobanê, Zehra Penaber and Destîna Qendil. Because Rêvan blew himself up in Kobanê amidst a group of mercenaries. Destina and a group of friends were resisting in a building, and when the mercenaries could no longer fight against them, they blow up the building completely. Kobanê was won in this way.
The whole world stood up for Kobanê. This is a demonstration of how heroic was the resistance carried out by women and men here...
A year has passed since the invasion attacks against Serêkaniyê and Girê Spî. But history repeats itself by living with the spirit of Arîn Mirkan, Dilvin Qamişlo, Nuhal, Zin, Savuşka.
Hevrin Xelef became the symbol of struggle today and was brutally murdered, Aqîde mothers and the bodies of many people many people's bodies have been torn apart...
It will be our greatest goal and aim to be the voice of this resistance that we see with our eyes, the pain, the beauty that we witness with our images, expressions and writings, and to announce and describe it to the whole world.
Rejin Lezgin, member of YPJ Press Center: The first thing to be curious about when joining the ranks of the YPJ is how those men and women grow and are integrated in the philosophy of freedom. My first search was to get to know the people who made the philosophy of freedom something alive. In every environment we visited, friends were talking about heval Arîn. That's how my curiosity to know Arîn began. After a while, I had the opportunity to see Arîn. What characterised Arîn was her excitement, enthusiasm and warm comradeship approach. When she did a job, she made it with excitement and reflected that feeling all around her.
Arîn had 4 female friends in her team. But she would have liked more. Four were not enough for her to discuss and joke with them, to explain and understand different aspects of life with each of them. Despite that, the strength of 4 people was worth the strength of 10-20 people. She wanted to play a leading role, whether small, big, easy or hard. Arîn made nothing out of interest.
It was time of the attack against Shengal. She heard it on the radio and was constantly following the news. All her discussions were about that. She was not in Shengal, she was fighting in a different field, but she wanted to give power to Shengal wherever she was. The Kobanê mobilization process has started. Arîn put her name forward immediately. She was very insistent on this issue and went to Kobanê with a group of friends. Later, I had the chance to move to Kobanê. Arîn carried out her action and fell martyr.
The action of Heval Arîn showed the course of the Kobanê war and victory was achieved. Today, young people, especially women, focus on the free life Arîn has showed them..."