AKP terror in Amed: 25 women on hunger strike detained
At least 25 women supporting HDP Hakkari deputy Leyla Güven have been taken into custody.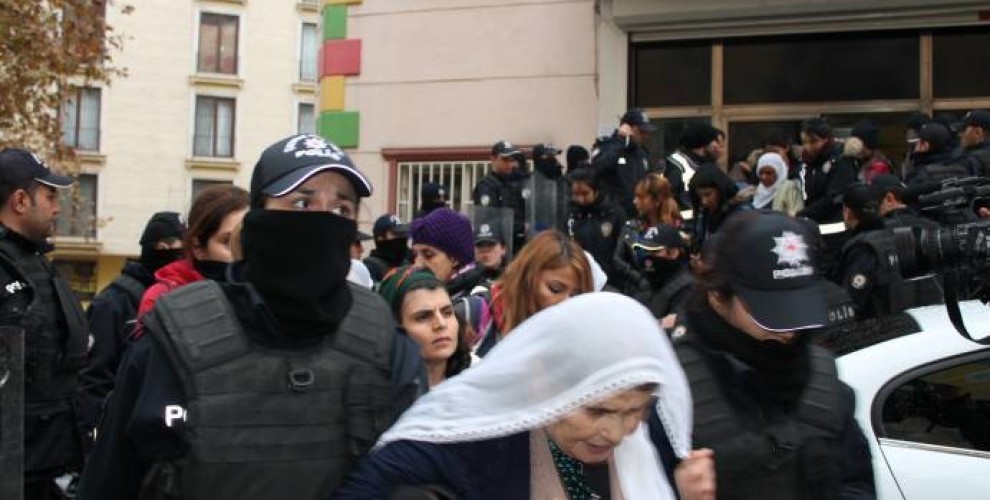 The hunger strike promoted by the Free Women's Movement (TJA) and carried out by over 20 women to support HDP Hakkari deputy Leyla Güven has been attacked by police.
HDP Amed Province building, where a three-day hunger strike is ongoing, has been literally sieged by police on Monday.
TOMA and armored vehicles as well as hundreds of police, closed the entrance and exit of the building.
Women activists, who were reading a press release, when the police threat began, said that they "would not be intimidated."
The police searched the Vedat Aydın Conference Hall, and seized the banners in the hall.
A discussion erupted between the police and the HDP executives who said that the raid was illegal.
At least 25 women were taken into custody following the police attack. Among the detainees were 80-year-old Makbule, member of the Peace Mothers Council. Women were dragged to the floor and harassed while they were being taken into custody.
According to information received, most women were not allowed by the police to wear their shoes.
While the police were blocking the entrance to the HDP Amed Provincial building women from TJA came to the building and held a press conference to protest the repression and the arrests.
80-year-old Peace Mother taken into custody
Speaking at the press conference, Party of Democratic Regions (DBP) Amed Provincial Co-Chair, Naside Toprak, said that from early in the morning a heavy police presence was noted.
An 80-year-old Peace Mother was among the women taken into custody, said Toprak who added: "The 80-year-old mother has been dragged on the floor by police."
Toprak, drawing attention to the isolation regime imposed on Öcalan, stressed that the actions will continue until the isolation is removed.
HDP Diyarbakir MP Remziye Tosun also reacted to the police attack and detentions.
The women taken into custody said that they would continue their hunger strike while in police custody.