"100 Reasons to Prosecute the Dictator" action in Düsseldorf
In Düsseldorf, activists from Cenî and YJK-E collected signatures for the "100 reasons to prosecute the dictator" campaign. The initiative demands an end to patriarchal violence and the condemnation of the Turkish president.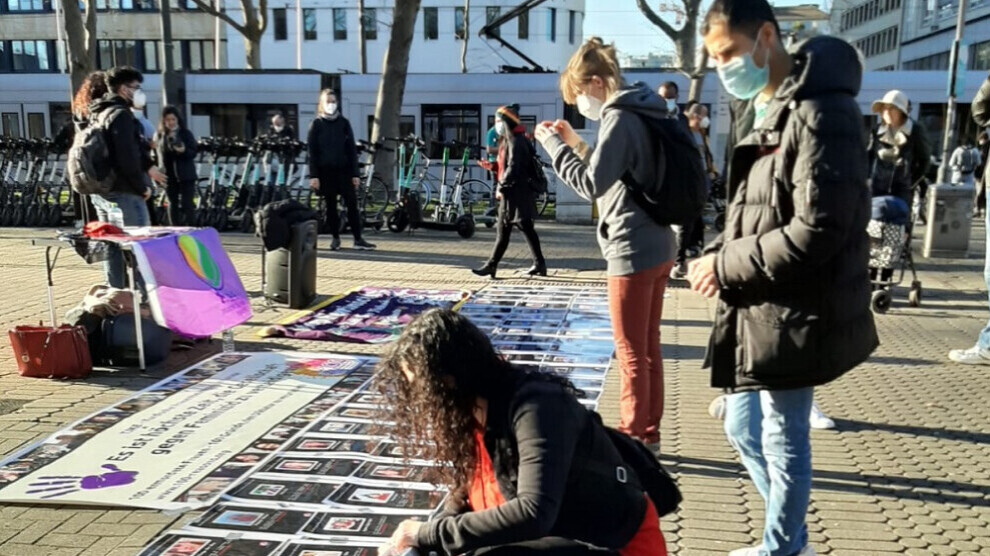 The activities on the occasion of the "100 reasons to prosecute the dictator" campaign initiated by the Kurdish Women's Movement in Europe (TJK-E) continue. On Sunday, activists of the women's umbrella organization YJK-E, together with representatives of Cenî (Kurdish Women's Office for Peace) set up an information table in front of Düsseldorf's main train station to promote the campaign and collect signatures. A petition launched on November 25 on the occasion of the International Day for the Elimination of Violence against Women aims to have Turkish President Recep Tayyip Erdoğan indicted by the UN as responsible for the Turkish regime's misogynistic policies and to have femicides recognized internationally as crimes against humanity. The petition can also be supported online until Women's Day on March 8.
The activists from Cenî and YJK-E held numerous talks with interested parties in Düsseldorf and conveyed the stories of 100 women who represent countless women for whose deaths Erdoğan is held responsible. The Kurdish women's movement wants to collect a total of 100,000 signatures as part of its campaign.
According to the Mor Çatı (Purple Roof) Women's Foundation, the number of femicides in Turkey has increased a thousandfold since the AKP came to power in 2002. Sexual violence against children has also increased dramatically and has at least tripled.