People of Afrin respond to the Turkish state
People of Afrin staged a march against the Turkish state's threats and gave the message "They cannot break our will".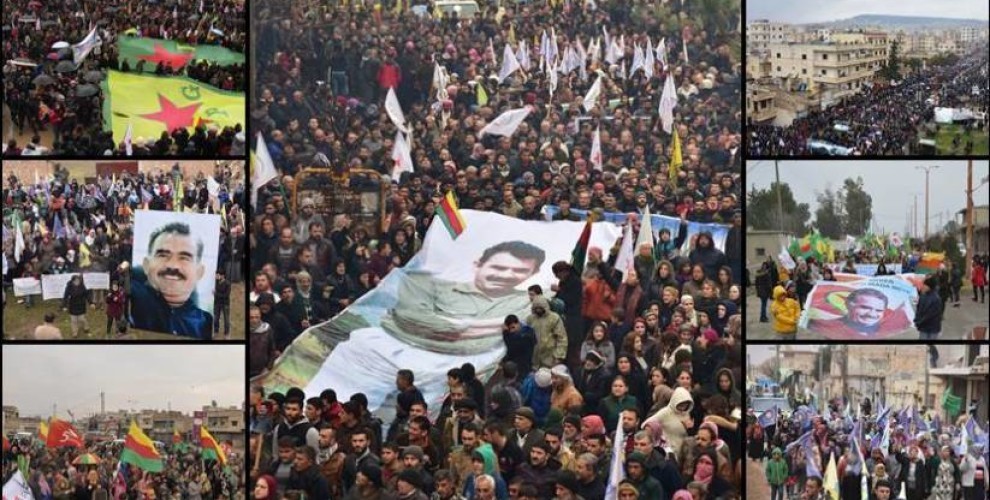 Tens of thousands of people joined a march on Thursday in protest at the Turkish state's threats and attempts of invasion. Demonstrators held images of Kurdish People's Leader Abdullah Öcalan, flags of People's/Women's Defense Units (YPG/YPJ), and banners that read "Freedom of Öcalan is freedom of Kurdistan", "Defense Forces don't accept fascist Erdogan's intervention", "Afrin will never bow the head", "Freedom for Öcalan, Status for Kurdistan" and "We will not abandon Afrin".
During the march from Newroz Crossing to Al-Vilat Avenue, the mass chanted "Your artillery do not scare us", "We won't leave our land", "Long Live YPG resistance", "Long Live brotherhood of peoples", "People of Afrin are united".
The march turned into a rally at Al-Vilat Avenue where speeches were held.
Afrin Canton Executive Council Co-president Hevi Mustefa said; "The invading Turkish army is attacking Afrin to intimidate the people, claiming that people of Afrin are leaving their land. Our gathering here reveals the lies of the Turkish state."
Speaking after, YPG commander Ebdo İbrahim said the following; "Afrin people are known for their resistance. Those who do not believe this should turn and look at history. Those who torn down the throne of ISIS reveal our strength and will. Should Turkey attack Afrin, it will face the same aftermath. Afrin is our red line and nobody can cross it. People of olive land are resistant and they do not leave their land."
El Bobena Tribe opinion leader Şerif Cemo said that; "Our gathering here today gives the message to the world that we resist and have a free will. We declare to the whole world that people of Afrin are together and united with all their components and there is no difference between them. We all are the people of this region and we will support our children in the battle fronts."