HPG statement on guerrillas executed in Muğla
Six guerrillas of the People's Defense Forces (HPG) lost their lives as a result of "betrayal" in the western province of Muğla two weeks ago.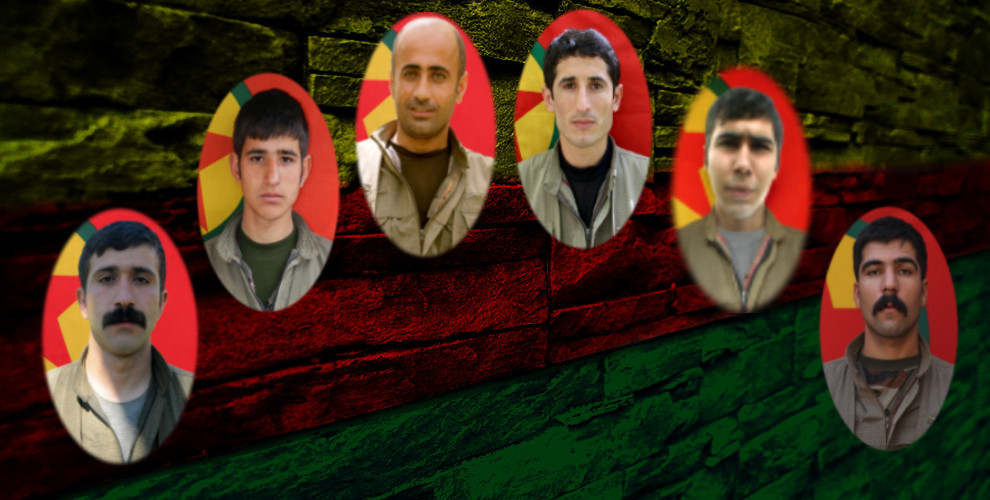 HPG Press Office released a statement about the capture of a group of our four guerrillas in the town of Seydikemer in Muğla province on October 4 and the events which resulted in the martyrdom of six guerrillas in the Köyceğiz district of Muğla.
HPG stated that these events, which both of the guerrilla groups assigned in the metropolitan areas of Turkey encountered, has taken place as the result of a betrayal in the group, saying;
"Şoreş Haymana (Selçuk Yogurtçu), who is included in the group, played a role in the fall of the two separate groups inside a trap with a synchronized operation in cooperation with the colonial Turkish state forces as a result of betrayal."
According to the HPG statement, the first group of four guerrillas Gabar (Ekrem Altay), Kamuran (Veysi Sengil), Ferhat (Velat Aşan) and Firaz (Mehmet Can Yiğirer) were brought to a position they could not resist by appointment and they were trapped and captured. The other day, a group of seven guerrillas, who were under the responsibility of commander Xalit Balveren, were poisoned through their meals in the district of Köyceğiz. The guerrillas named Xalit (Salih Sanrı), Warger (İlyas Demir), Alişer (Rojhat Seçkin), Adil (Muhammed Nursida) and Mahir (Musa Arslan) were martyred after this poisoning event.
"As a matter of fact, our martyr families and lawyers have also suspected this situation and stated that this may be an execution. This is a completely correct finding; these comrades were treasonously medicated through their meals so they were neutralized and then executed.
Comrade Erdal (Enver Kerimi), of the survivors of this event in which guerrillas were informed against, encountered the operation of the enemy in a place where he went in a state of being injured on October 6, and this comrade of ours resisting the enemy in a sacrificial manner in order to not be captured has lastly detonated his own bomb and has reached himself to martyrdom."
The statement by HPG continued; "The Turkish colonial security forces show this capture and martyrdom event developed through a conspiracy in the most despicable manner and treacherous betrayal as a success. However, we have experienced this loss as a consequence of the deep treason that is far from any skill of the security forces. Our groups, who were not aware of the betrayal of this element, complied with the sayings of this individual without doubt, approaching with the purity of comradeship and so falling into a trap, and the arrests and martyrdom that took place one after another has taken place on this basis".
It should be known that the colonialist Turkish state will not be able to reach anywhere with such traps, and that the betrayal wanted to be developed in Kurdistan will not save them, and that the Apoist movement will hold to account one by one anyone responsible for the betrayal. We will raise our fight against colonialism and betrayal as a requisite of our commitment to the memory of our heroic comrades, and the blood of our comrades will not be left on the ground."
The ID details of the fallen guerrillas are as follows;
Nom de Guerre: Xalıt Şirnex

Name- Surname: Salih Sanrı

Place of Birth: Şırnak

Mother's- Father's Name: Fatma - Beşir

Date and Place of Martyrdom: October 5, 2017 / Muğla
Xalıt – Salih Sanrı
Nom de Guerre: Adıl Bawer

Name- Surname: Muhammed Nursida

Place of Birth: Aleppo

Mother's- Father's Name: Horik - Fikret

Date and Place of Martyrdom: October 5, 2017 / Muğla
Adıl – Muhammed Nursida
Nom de Guerre: Alişer Munzur

Name- Surname: Rojhat Seçkin

Place of Birth: Batman

Mother's- Father's Name: Saliha - Hasan

Date and Place of Martyrdom: October 5, 2017 / Muğla
Alişer – Rojhat Seçkin
Nom de Guerre: Erdal Leylaxi

Name- Surname: Enver Kerimi

Place of Birth: Sine

Mother's- Father's Name: Bese – Haci Ali

Date and Place of Martyrdom: October 5, 2017 / Muğla
Erdal – Enver Kerimi
Nom de Guerre: Mahir Akdeniz

Name- Surname: Musa Arslan

Place of Birth: Mersin

Mother's- Father's Name: Nuran- Nedim

Date and Place of Martyrdom: October 5, 2017 / Muğla
Mahir – Musa Arslan
Nom de Guerre: Warger Şindar

Name- Surname: İlyas Demir

Place of Birth: Mardin

Mother's- Father's Name: Rukiye - Ekrem

Date and Place of Martyrdom: October 5, 2017 / Muğla