YPJ announces the death of three fighters in Turkish drone attack
YPJ fighters Dilar, Ronahî and Kobanê were martyred in a Turkish drone strike in Rojava.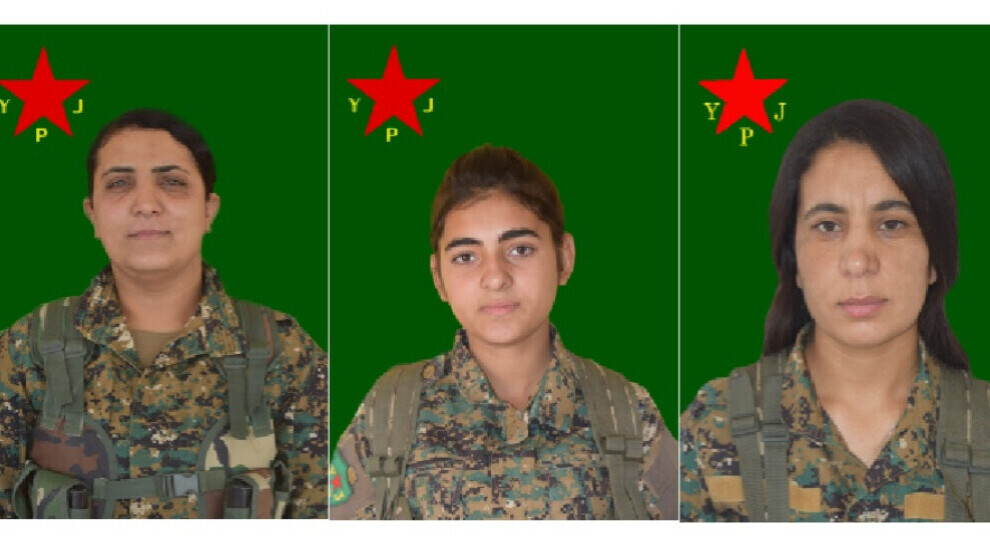 Women's Defense Units (YPJ) announced that fighters Dilar, Ronahî and Kobanê were killed in a Turkish drone attack on Wednesday. The targeted attack is the 29th drone strike carried out by the Turkish state in the autonomous region of northern and eastern Syria this year.
The YPJ stated, "A concept of annihilation is being implemented in Kurdistan that aims at genocide and is directed against the Kurdish people and the model of a democratic nation. The Turkish occupying state is attacking all four parts of Kurdistan with the support of regional and international powers."
High sacrifices were made for the women-led revolution of Rojava, the YPJ said and continued; "We stood up to ISIS for all humanity and fought for all women and the people of the region. The Turkish state has attacked the Rojava revolution from the beginning in front of the eyes of the world public. It is anti-women and has special hostility against the organized forces of women. On April 20, 2022, our companions Dilar, Ronahî and Kobanê were attacked and killed by an armed drone of the Turkish state while carrying out their task."
Regarding the fallen fighters, the YPJ said that Dilar Heleb was a member of the YPJ Command in Kobanê. She was from Afrin and participated in the revolution in Aleppo in 2012. "Comrade Dilar was always by the side of the people and fulfilled her responsibilities in the revolution under all circumstances. In particular, she played a leading role in the resistance in the Şêxmeqsûd (Sheikh Maqsoud) district of Aleppo and in the liberation of the city of Manbij from ISIS rule.
Ronahî Kobanê joined the YPJ in 2014 to defend Kobanê against ISIS. She was wounded during the fighting. She then took part in the liberation offensive in Raqqa. Most recently, she was co-chair of the defense committee in Kobanê. The third fighter killed is Kobanê, who joined the YPJ in 2020.
The YPJ expressed their condolences to the relatives and stated that the struggle of the martyrs will continue.
The ID information of the fallen YPJ fighters is as follows:
Nom de Guerre: Dilar Heleb
First-Last Name: Ranya Henan
Mother's Name: Necah
Father's Name: Remzi
Date and Place of Birth: Efrîn-1988
Date and Place of Martyrdom: Kobanê-20.04.2022
***
Nom de Guerre: Ronahî Kobanê
First-Last Name: Rodîn Ebdilqadir Mihemed
Mother's Name: Emîne
Father's Name: Ebdilqadir
Date and Place of Birth: Kobanê-1996
Date and Place of Martyrdom: Kobanê- 20.04.2022
***
Nom de Guerre: Kobanî
First-Last Name: Cihan Nidal Elî
Mother's Name: Celila
Father's Name: Nîdal
Date and Place of Birth: Kobanê-2003
Date and Place of Martyrdom: Kobanê-20.04.2022