'Sovereign states attack the Autonomous Administration of North and East Syria'
The Syrian Democratic Council (MSD) Raqqa Women's Bureau condemned the attacks of those states that intervened in the Syrian civil war against the achievements of the Autonomous Administration and its peace initiatives.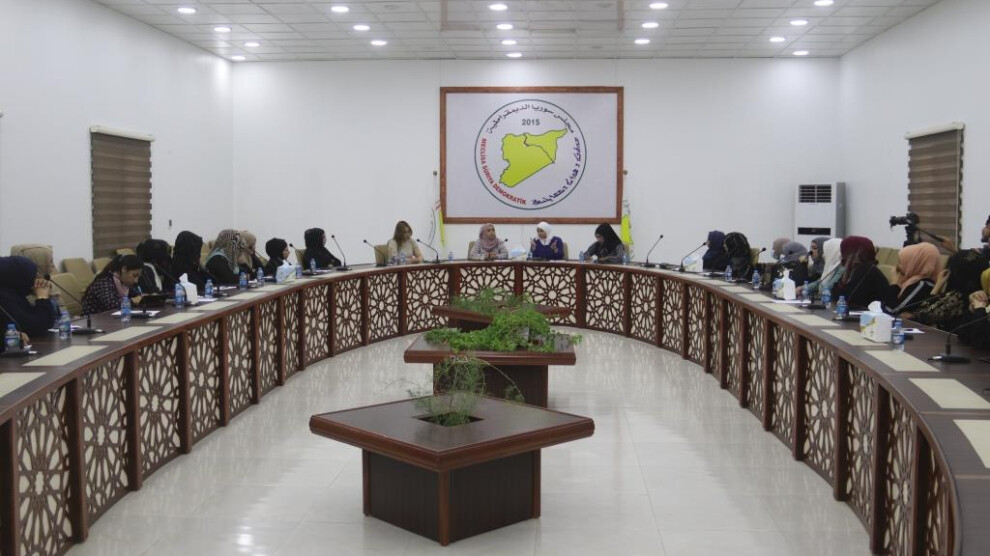 The Syrian Democratic Council (MSD) Women's Bureau held a meeting in Raqqa to discuss the recent political developments and women's empowerment in society. Dozens of non-governmental organizations and MSD members attended the meeting.
After a minute of silence, a member of the MSD Liaison Office, Jiyan Mela Mehmud, made a speech expressing concern about the effects of the Russia-Ukraine war on Syria, saying, "The war between Russia and Ukraine has had a negative impact on Syria."
Mehmud remarked that the Turkish state has intervened in Syria's internal affairs since the beginning of the Syrian crisis and attempted to change the demographic structure in the region by occupying parts of North and East Syria.
Mehmud touched on the negative roles of the states which intervened in the Syrian crisis, stating, "Russia came to the region as a guarantor state, but it did not play its role, it only escalated the tensions." She also addressed Russia's efforts to impose an economic embargo on the region and its cooperation with the Syrian government, noting that the blockade in the region increased after Russia had closed down the Til Koçer border gate.
Mehmud spoke about the attacks directed at the Autonomous Administration of North and East Syria, saying, "The war has been waged because the Autonomous Administration has a project to resolve the Syrian crisis. This project is not compatible with the projects of the opposition."
Debibe El-Nasir, an administrator in the MSD Women's Bureau, said that North and East Syria became the safest place for all Syrians after they were liberated from ISIS.
El-Nasir emphasized the importance of recognizing the existence of women in Syria, especially in North and East Syria, adding, "The MSD is a national and democratic assembly which consists of social and political forces."