Sêmalka protesters condemn KDP's collaboration with Turkey
For 39 days, relatives of martyrs have been demanding at the northern Syrian border crossing of Sêmalka that the bodies of fallen guerrilla fighters be handed over by South Kurdistan's ruling party, KDP.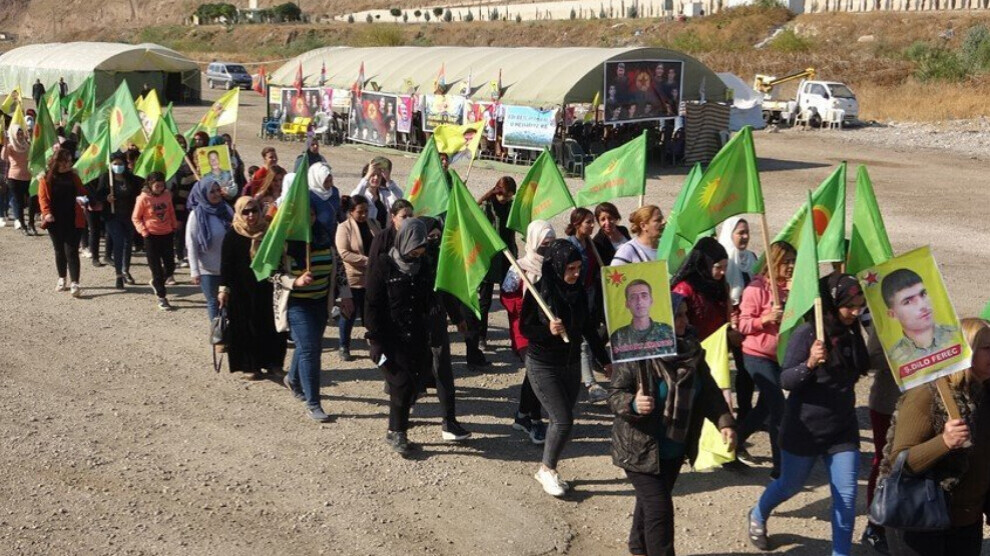 Five guerrillas were killed and two others injured in the Xelîfan region in South Kurdistan as a consequence of an ambush by armed forces linked with the Kurdistan Democratic Party (KDP), which is engaged in Turkey's activities against the Federal Kurdistan Region. Families of the two guerrillas from Rojava, Tolhildan Raman and Serdem Cudi, who are among the five slain guerrillas, have since been trying to cross from North and East Syria to the Kurdistan Region through the Semalka Border Crossing to receive the bodies of their martyrs.
The mothers and relatives joining the protest action in a tent at Semelka border crossing for 39 days have repeatedly been denied entry to South Kurdistan by the KDP forces, and have been put off with false promises. The KDP had recently promised to hand over the bodies of the martyrs to the families, but so far nothing has happened. The women are determined to continue their protest action until they succeed.
The Cizire Region branch of the women's movement Kongreya Star visited the demonstrators today and expressed their solidarity. The group condemned the KDP, which they accused of collaborating with the enemies of Kurds and going after the interests of the party.
Speaking here, Qamishlo Canton Kongreya Star Coordination member Rim Isa criticised the silence of the KDP in the face of the demands of the protesters whose action has entered its second month.
"In the four parts of Kurdistan, the Kurdish people should unite and expose the KDP's collaboration with Turkish fascism," she said.
Remarking that the KDP serves the interests of the occupying Turkish state in its war against the Kurdistan Freedom Movement, Isa continued, "This betrayal is nothing new. The KDP targeted Beritan 29 years ago. Everyone knows about the KDP's collaboration with Turkey against the Kurdistan Freedom Movement and the guerrillas."
Isa concluded her speech by calling on the Kurdish people in four parts of Kurdistan to unite in response to Turkey's occupation threats against Rojava and North-East Syria and the KDP's collaboration with the occupying state.