Protests against Turkish invasion attacks across Cizire Region
Multiple protest actions were held in many cities of the Cizire Region against Turkey's invasion attacks on southern Kurdistan and Saturday's attack on Maxmur Refugee Camp.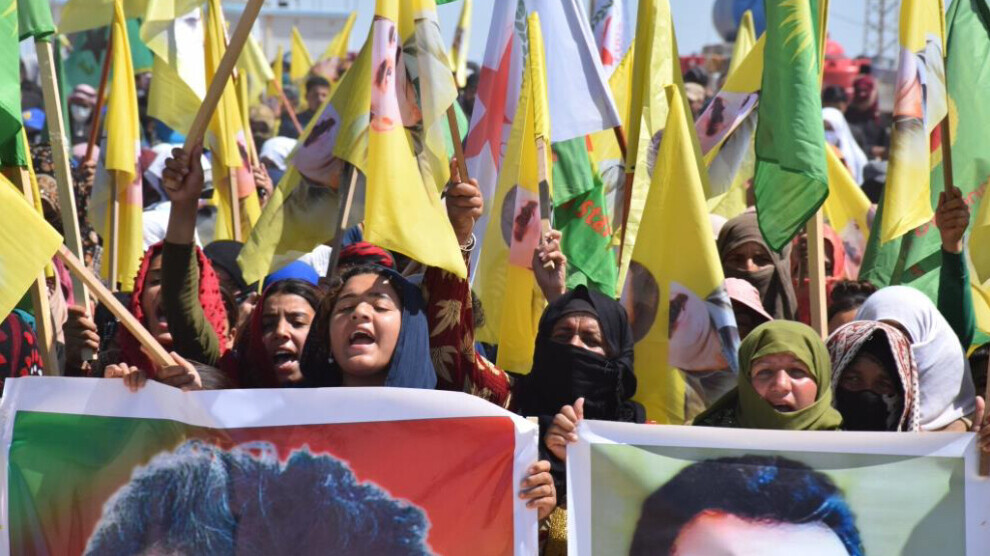 Against the Turkish state's unabated invasion attacks, multiple protest actions were carried out in many locations in Til Temir, Serekaniye Camp, Washokani Camp, Tirbespiye and Girke Lege in Heseke Canton on Monday.
TIL TEMIR
In Til Temir, the action launched in front of Council of Martyrs' Families office was participated by the citizens, members of civil institutions and political parties.
The activists staged a protest march condemning Turkey's genocidal attacks on Kurdish regions. Meryem El Ebdullah, a member of Kongreya Star Executive Council, made a brief speech and expressed reaction to the Turkish state violating all agreements and laws in sight of the international community.
SEREKANIYE CAMP
The immigrants living in Serekaniye Camp also took to the streets today in protest at the Turkish state's war in the region. During the march, the crowd chanted slogans saluting the guerrilla resistance against Turkish invasion.
Ebdurezaq Mihemed, member of Heseke Canton Council, spoke at the demonstration and condemned the attacks of the occupant Turkish state.
Likewise, Fedile Hesen, member of Serekaniye Camp Council, defined Turkey's attacks on Kurdistan as "inhuman" and "war crime".
WASHOKANI CAMP
During the march held in Waşokani Camp, the activists displayed posters of Kurdish people's leader Abdullah Öcalan, and flags of Kongreya Star and Democratic Union Party (PYD) as well as banners reading, "No to invasion, time to defend the revolution", "Freedom for Leader Öcalan" and "The guerrilla resistance is our honour".
Hevin Ebdo, co-chair of Washokani Camp Management, addressed the crowd at the demonstration staged in the wake of the march. Ebdo stated that current attacks directly target the whole Kurdish people and cause a threat against entire Kurdistan territories. Expressing that the Turkish state seeks to provoke a conflict among Kurds, Ebdo noted that Kurdistan Democratic Party (KDP) also supports the occupiers.
TIRBESPIYE
In Tırbespiye, families of martyrs staged a march behind a banner that read "Our revolution is our honour, we will defend our honour".
During the march which was followed by a demonstration in front of the Youth Center, the crowd frequently chanted slogans calling for resistance and unity. Nuredin Şakir, member of Tirbespiye Council Martyrs' Families, pointed out that the Turkish state intends to annihilate the Kurdish people as a whole.
GIRKE LEGE
The protest march in Girke Lege was launched at Martyr Xebat Derik Square. The march against the Turkish state was followed by a demonstration in the district center. Tacedin Ferho, making a brief speech in the name of the demonstrators emphasized that they will resist for their lands till the end.