Peshmerga veteran calls for solidarity with Shengal
During a visit to Shengal, Peshmerga veteran Osman Mihemed expressed his support for the Yazidi community's demands for autonomy and appealed to the KDP not to turn against its own people.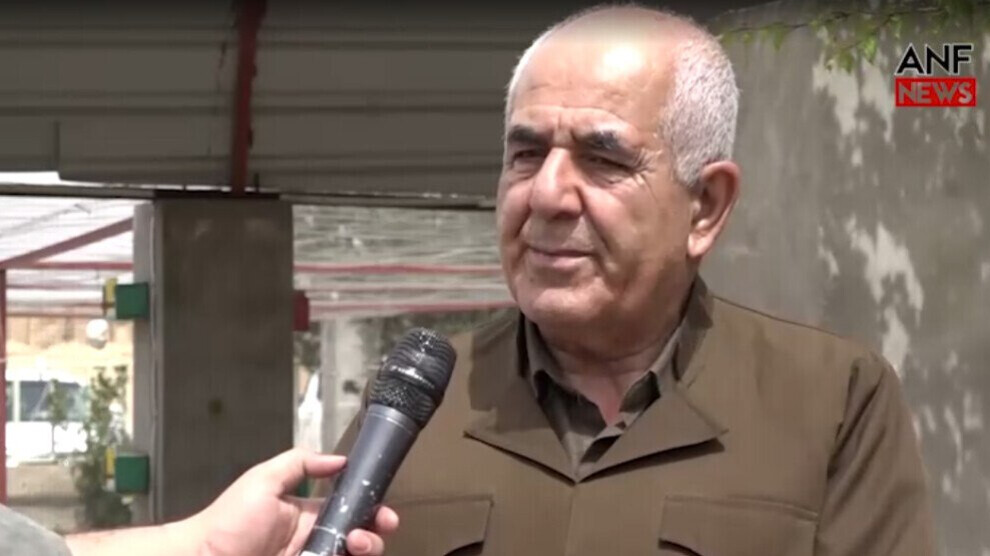 Peshmerga veteran Osman Mihemed has visited Shengal to support the Yazidi people in their demand for autonomy. Mihemed is from the Pêşmergeyên Dêrîn association, whose members fought in southern Kurdistan back in 1992 during the Gulf War.
The former Peshmerga fighter wished the Yazidis in Shengal a happy New Year. The holiday of Çarşema Sor (Red Wednesday) is celebrated by the Yazidi community on a Wednesday after April 13 as the New Year. Mihemed recalled the many massacres that have taken place in Kurdistan's history.
"The Turkish state wants to prevent the Kurdish people from forming a unity. That is why it is inciting the Kurds against each other. For this purpose, it uses the KDP. It is not only attacking the Yazidi people, but the entire people of Kurdistan. Without the Turkish state, there would be no significant problems among the Kurds."
Appealing to the KDP and the Peshmerga, Mihemed said, "All the occupying states and especially Turkey want to portray the Kurds as a weak folk who cannot defend themselves. The occupying powers have prevented Kurdistan from getting a status in the past. What is happening now in Shengal is a continuation of that. As a veteran, I appeal to the KDP and the Peshmerga: they should think about with whom they are acting together. They must not turn against their own people."
RELATED NEWS: