Kurdish Red Crescent: Any aggression on North-East Syria would cause humanitarian disasters
Warning against huge migration waves and a disaster in the event of an attack on North-East Syria, the Kurdish Red Crescent called on the international community and organizations to "secure safety and freedom, stop the attacks and close airspace."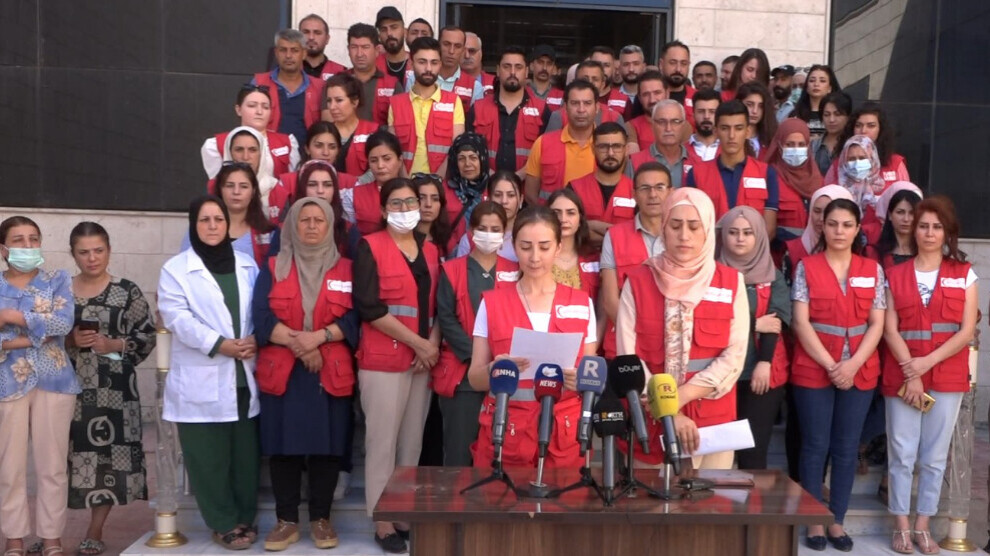 The Kurdish Red Crescent (Heyva Sor a Kurd) made a statement to the press in front of their headquarters in the northern Syrian city of Qamishlo in protest at the Turkish state's threats to invade further territories in an imminent military incursion in the region.
The statement, read out both in Kurdish and Arabic, stated; "The North-East Syrian territories have been facing threats from the Turkish state for a long while. Considering the fact that various camps in the region and Syria as a whole house more than 100 thousand migrants, these threats would lead to humanitarian disasters for Syria and neighboring countries."
Pointing out "a lack of aid despite huge efforts for cooperation with humanitarian organizations,", the Kurdish Red Crescent said that this situation has a negative impact on the general services and humanitarian work they conduct. The organization added that they cannot reach numerous areas in northern Syria due to security and instability circumstances.
The Kurdish Red Crescent warned that "any aggression on North-East Syria would cause huge migration waves and a disaster," calling upon the international community and humanitarian organizations to "secure safety and freedom, stop the attacks and close airspace."