IDPs from Serêkaniyê denounce Turkey's plans to annex occupied regions
The Serêkaniyê Immigrants Committee said that the Turkish state aims to annex the occupied territories to Turkey through the colonial houses project.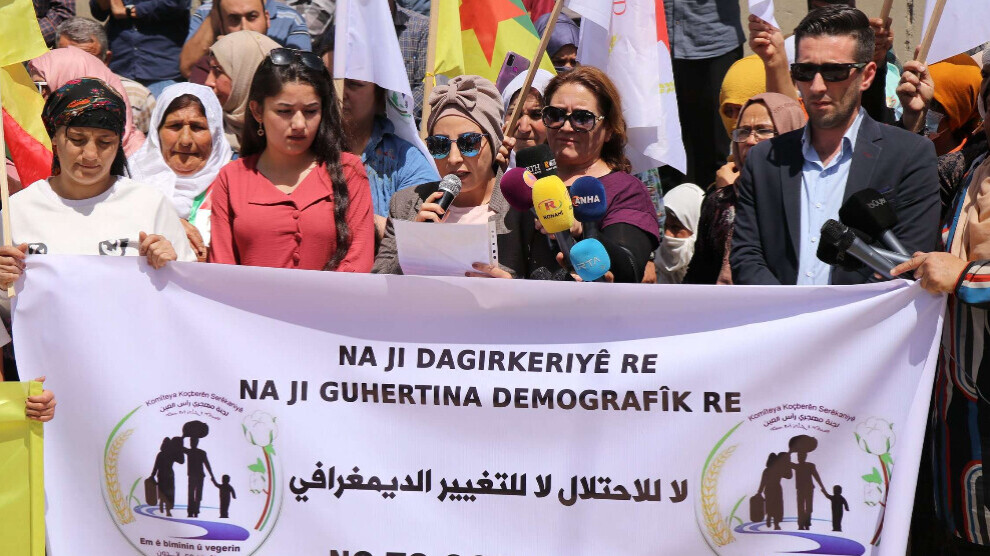 On May 3, Turkish President Recep Tayyip Erdogan said that they were ready to introduce a project and resettle one million Syrian refugees in Afrin, Azaz, al-Bab, Jarablus, Girê Spî and Serêkaniyê.
The Serêkaniyê Immigrants Committee released a statement regarding the Turkish state policies to change the demographic structure of the regions it has occupied in North-East Syria.
The Committee submitted an official document on the subject to the UN Migration Office in Qamishlo city.
The statement was read out in front of the UN office in Arabic, Kurdish and English by members of the Serêkaniyê Immigrants Committee, Reyan Exte, Rîhan Xelîl and Lîlav Şêxmûs.
"The silence of the international community towards the establishment of colonial houses in the occupied regions shows its failure fulfil its legal and humanitarian responsibilities," the statement said.
The statement remarked that the AKP has been trying to take advantage of the changes in the Middle East since the day it came to power in 2002. "Turkey has supported extremist Brotherhood movements and terrorist organizations and provided them with military, logistical and political support. Turkey has thus intervened in some regions to annex the lands of neighbouring countries to its own territory and established military bases in some neighbouring countries."
"Turkey's plan is being executed before the eyes of the world following the occupation of 9 thousand kilometres of Syrian territory," the statement noted.
The statement pointed out that the Turkish state aims to annex the regions it has occupied to Turkish territory through the colonial houses project. It noted that Turkey wants to omit these regions from the Syrian file in future agreements by changing its history and demographic structure.
Condemning the demographic change policies, the statement defined the politicization of the refugee issue in order to obtain political gains and to legitimize the occupation in these regions as a dangerous step.
The statement called on the international community, the US, Russia and international organizations to stop this colonial project that perpetuates colonialism, destroys peace and the local people, prevents the return of the refugees and paves the way for a future internal conflict in the region.