Gulo family: We will resist with Leader Öcalan's philosophy
Thousands of people took to the streets in the northern Syrian city of Qamishlo following the Turkish drone strike that killed three residents yesterday.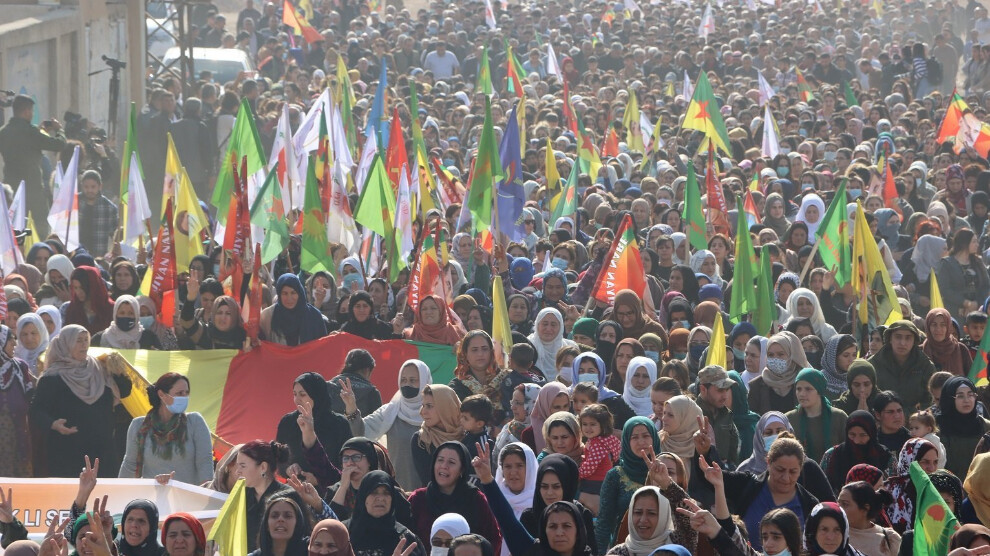 After three civilians were killed in a Turkish drone attack in the Hilêliyê neighborhood in the northern Syrian city of Qamishlo on Tuesday, thousands took to the streets on Wednesday in the neighborhood where the attack took place. People commemorated the three politically active martyrs from the Gulo family; Yusif, Mazlum and Mihemed Gulo.
The crowd first marched to the tent set up in the Martyr Xebat Square to receive people offering their condolences. A minute of silence was followed by the speech of Hesen Ubêd representing the Cizire Council of Martyrs' Families.
'THIS IS OUR LAND'
Highlighting the sacrifices of the martyrs, Hesen Ubêd said, "The Gulo family is one of those who sacrificed their lives for Kurdistan. The plans of the Turkish state have been frustrated thanks to the fight and blood of our martyrs."
Remembering all the martyrs in the person of Yusif Gulo, Ubêd continued, "We promise once again that we will continue our struggle in the footsteps of our martyrs. We will free our land from the invaders. This is our land, not anyone else's."
Speaking in the name of the martyr Yusif Gulo family, Rêzan Gulo emphasised their determination to keep the struggle going for the liberation of entire Kurdistan. Rêzan Gulo said Yusif had taken an active part in the struggle since the day he met the Kurdish leader Abdullah Öcalan. "He had given his word to struggle with the philosophy of Leader Öcalan and he kept his word till the last moment of his life. He fell a martyr and showed his loyalty to his country and land once again. He did what his promise to his people and the martyrs required."
Stressing that the peoples of North and East Syria could resist and frustrate all the attacks of the Turkish state and ISIS gangs, Gulo added, "We promise our martyrs and Martyr Yusif Gulo once again. We will resist with Leader Öcalan's philosohy till our last breath to realize their objectives."