Gerîla TV broadcast footage of Revolutionary Revenge Operation
Gerîla TV broadcast the footage of the action in which at least 18 soldiers were killed during the Revolutionary Revenge Operation.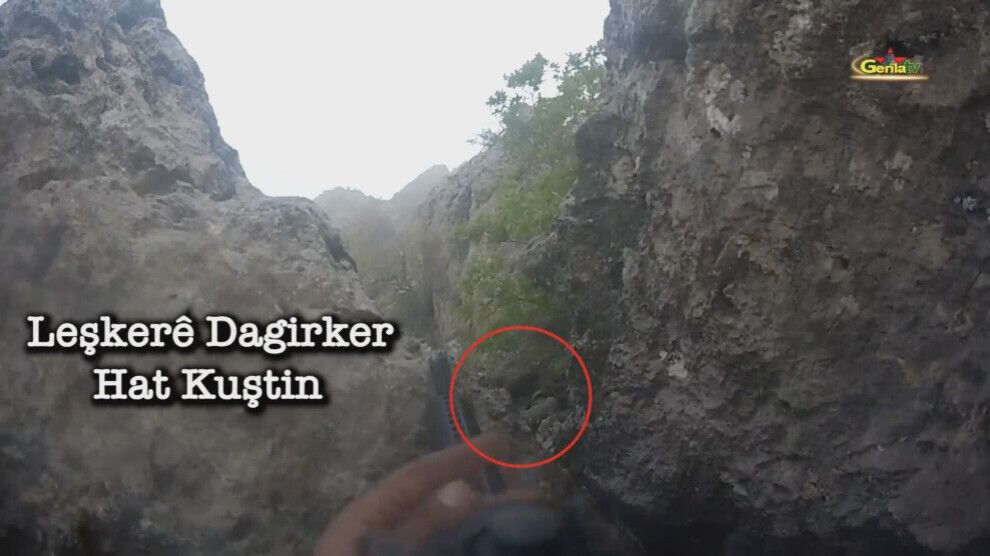 Gerîla TV broadcast the footage of the Revolutionary Revenge Operation.
The HPG Press Center issued a statement regarding the action:
"The Girê Cehennem positions of the Çiyareş Resistance Area of Zap, which were bombed by the Turkish army with chemical weapons and explosives, have been taken under control by our forces. These war criminal invaders, who used chemical weapons against the Kurdistan Freedom Guerrillas, were killed by our forces in Operation Revolutionary Revenge on 24 May. The details of this coordinated action carried out by our semi-mobile teams in the spirit of Apoist attack and victory are as follows:
The invaders were targeted with coordinated guerrilla action by our semi-mobile teams at 5 am, using infiltration and raid tactics. The First team targeted 3 military tents and 2 positions belonging to the invaders and put hand grenades inside and hit them with individual weapons. Our forces attacked the invaders, including two high-ranking officers, and quickly destroyed the positions and tents, and killed 7 invaders, 2 of whom were high-ranking officers.
Our forces confiscated 1 portable M-16 gun, 1 pistol, 1 mobile phone, 1 military school ring and 1 assault vest belonging to the commander of the invaders as evidence. In addition, our forces also seized 1 portable M-16 gun, 1 grenade launcher and 1 energy source.
The Second team targeted 2 positions and 1 military tent with individual weapons and hand grenades, effectively hitting them. Our semi-mobile teams, infiltrating the positions, took the enemy by surprise and took control of their post in a short time. 5 invaders were killed and 1 MPT gun, 1 grenade launcher and 1 steel vest were confiscated.
The occupiers in the vicinity who wanted to intervene in the action area were also targeted and shot by our forces. At least 6 invaders were killed.
In this Revolutionary Revenge Operation that took place at lightning speed and lasted for 12 minutes in total, at least 18 invaders were killed, 2 of them high-ranking officers. As evidence of the losses inflicted by the invading Turkish army, which constantly hides its losses, guerrillas seized the military school ring of the rank of invader, 2 portable M-16 guns, 180 M-16 bullets, 2 grenade launchers, 1 MPT gun, 1 pistol, 1 mobile phone, 1 assault vest, 1 steel vest, 1 military knife and 1 energy source were confiscated. The 4 military tents and 4 positions in which the invaders were located were completely destroyed."