"Fascism uses water as a weapon against resisting peoples"
The reduction of the water flow of the Euphrates River by the Turkish state continues to negatively affect the lives of millions of people living in northern Syria. Farmers in the region urge the international public to act responsibly.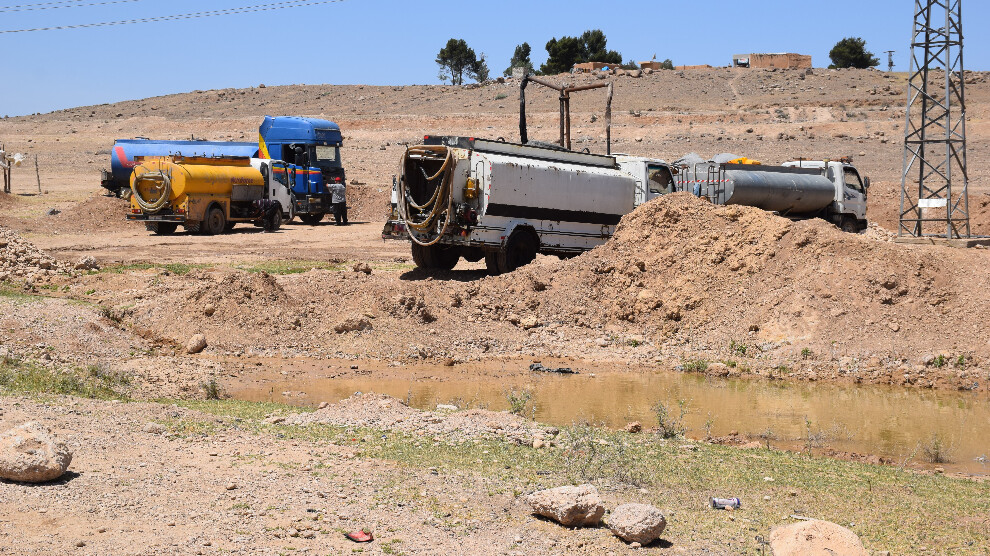 Since the beginning of the Syrian crisis, the Turkish state has been committing crimes against the peoples of Northern and Eastern Syria. One of these crimes is the cutting of water resource that is vital to the region. The Turkish state has been continuing to systematically deprive the people of the region of water and threaten them with water scarcity since 2011. Recently, Elok Water Station has become out of service following the large-scale attacks on Serêkaniye on October 9, 2020. As a result, millions of people in Hesekê Canton have drinking water problem. The international public is content with being a mere spectator to these crimes. Especially the silence of the Russian and international public opinion encourages the Turkish state to commit further crimes.
According to an agreement signed with Syria and Iraq in 1987, the Turkish state is supposed to provide 500 cubic meters of water per second from the Euphrates River to Syria. However, Turkey has reduced this to 200 cubic meters. Millions of hectares of land dried up due to the lack of agricultural irrigation in the region where there is little rain. The reduction of the water flow from the Euphrates River has also caused a decrease in electricity production.
Ali El Hec, a farmer in Til Temir's Um El Maiz village, said that the international community does not care about the humanitarian values. El Hec, urging the international community to halt Turkey's attacks, noted that millions of people have deliberately been denied access to water.
Aldar Xelef, one of the officials of the Hesekê Water Administration, pointed out that it is not the first time the Turkish state uses water as a weapon. He emphasized that the agricultural lands need to be irrigated due to the dry season and lands are already drying up due to insufficient water coming from the Euphrates River.
Xelef remarked that the lack of water also caused a decrease in drinking water in the region. Even Raqqa and Deir ez-Zor have been affected and electricity and drinking water could not be provided to many places. He noted that they would support farmers to irrigate their lands.
Hesekê Electricity Department co-chair Suzan Şakir expressed that water scarcity has reduced electricity production. She urged the international public to halt the crimes committed by the Turkish state against the region.