Family of German internationalist Konstantin Gedig visits Rojava
The family of German internationalist Konstantin who was killed by the Turkish army in October 2019 in Serêkaniyê visited Rojava where their son fought, and said that they would continue the struggle and hold the perpetrators accountable.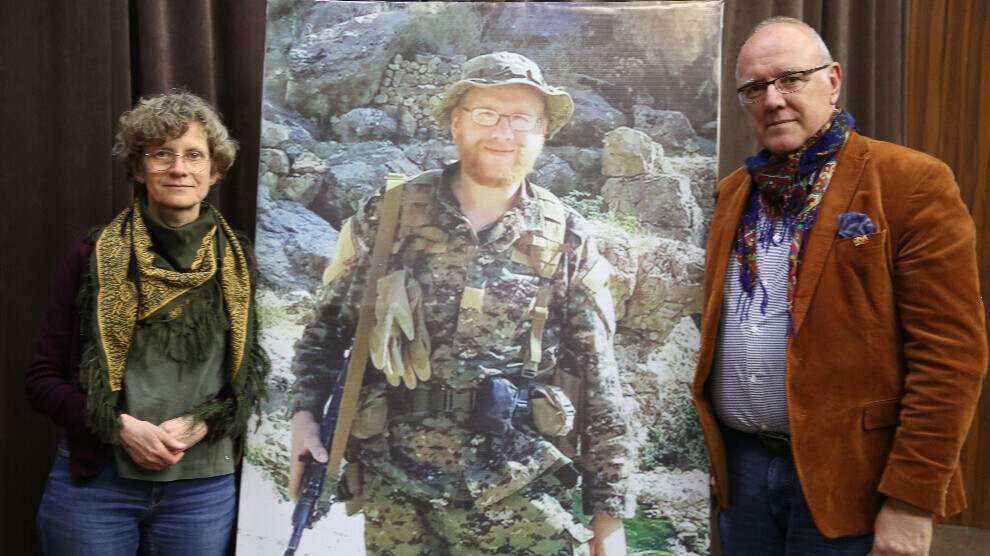 The family of German international fighter Andok Cotkar (Konstantin Gedig), killed by the Turkish state during its invasion attacks against Serêkaniyê and Girê Spi in October 2019, visited the Rojava Revolution Field. The family visited almost all the cities in North and East Syria and saw with huge enthusiasm the places where their son Konstantin fought. The family which attracted great attention from the people of the region visited the families of several martyrs. Cultural and artistic groups organized an event in honour of the family in Pargin, in the Koçerat region in Dêrîk city.
The family also participated in the Newroz celebration in Kobanê on March 21 and stated that the struggle carried out here was a cause for humanity and their son, Martyr Andok, proved it. The family said that they would call those responsible to account by expanding the struggle against the murderous policies of the Turkish state.
'HE JOINED THE YPG TO FIGHT ISIS'
The family released a statement during their visit to Rojava, saying the following:
"Dear Friends, people of Rojava and Kurdistan;
It is a great honour to deliver a speech to commemorate the internationalist martyrs. We named our son Konstantin. This Latin name means 'continuation'. We never thought how our son would live a life worthy of the meaning of his name. On September 1, 2016, on the International Day of Peace, our son Konstantin went to Rojava. While aboard on his way to Rojava, he wrote to us: "I will try to help those who could not escape from bullets at the Turkish border, those who decided to stay and to help those who escaped to return to their places.
Konstantin joined the People's Defence Units (YPG) to fight ISIS. He changed his name to Heval (Comrade in Kurdish) Andok Cotkar. Konstantin had not revealed his decision to fight ISIS to his family. His decision was a shock to us. Andok Cotkar initially worked as a health care worker on the battlefield. Martyr Akad Ashur and Paul Doc Hetfield were his mentors. Unfortunately, Paul passed away in his country a few weeks ago due to his illness. Andok fought with his battalion in many cities, such as Manbij, Tabqa and Raqqa. He was injured multiple times, and once he barely survived. Our son fought more fiercely against the enemies of Rojava after the fall of his companions. We commemorate international martyrs, especially Michael Israel (Robin Agirî), Ryan Lock (Berxwedan Givara), Nazzareno Tassone (Agir Ararat), Anton Leschek (Zana Ciwan) and Jack Holmes (Shoreş Amanos). We grieved for every fallen companion of Andok Cotkar. We saw many pictures of Andok and his companions in Rojava. As if we met them in person…
'WE GOT TO KNOW ROJAVA THANKS TO HIM'
We got to know Rojava thanks to our son. We saw how the people lived here and how they suffered under the occupation of ISIS, the mercenary groups and the persecution of Turkey. We saw how they led a life based on their will in defiance of threats and uncertainty. We understood that Andok Cotkar went to Rojava to honour us by giving medical support to those who were exposed to attacks, oppression and injustice, instead of doing nothing. Andok joined the resistance with his companions after Turkey attacked Rojava again in October 2019. On October 19, 2019, we received the worst news ever for us: our son was martyred. Turkey killed him and his companions with bombs while they were injured. We miss him, but we console ourselves with the valuable defence of the people of Rojava. We recognize and respect their resistance.
'TURKEY KEPT THE BODIES OF FALLEN FIGHTERS'
We could not bury him because the Turkish state kept his body. The family of Helin Qereçox, who was martyred by the Turkish state in Afrin in 2018, could not bury their child either. We know that many families of martyrs could not bury their children as Turkey kept the bodies of fallen fighters. Turkey should know that, as the mothers and fathers of these children, we will struggle to build their shrines as long as we live. As the parents of Andok, we will also fight in Germany for the creation of a peaceful, equal, independent and secure life. We vow to prosecute those responsible for the killing of Konstantin and his companions.
Thank you Konstantin, for being with us. You were a special person, a good friend. You will always be with us. Thank you, people of Rojava, for embracing Andok and making him very happy."