YPJ fighters celebrate March 8 in Hesekê
Fighters of the Women's Defense Units (YPJ) in Hesekê celebrated March 8 with an impressive military ceremony. The highlight was an address by YPJ General Commander Newroz Ehmed.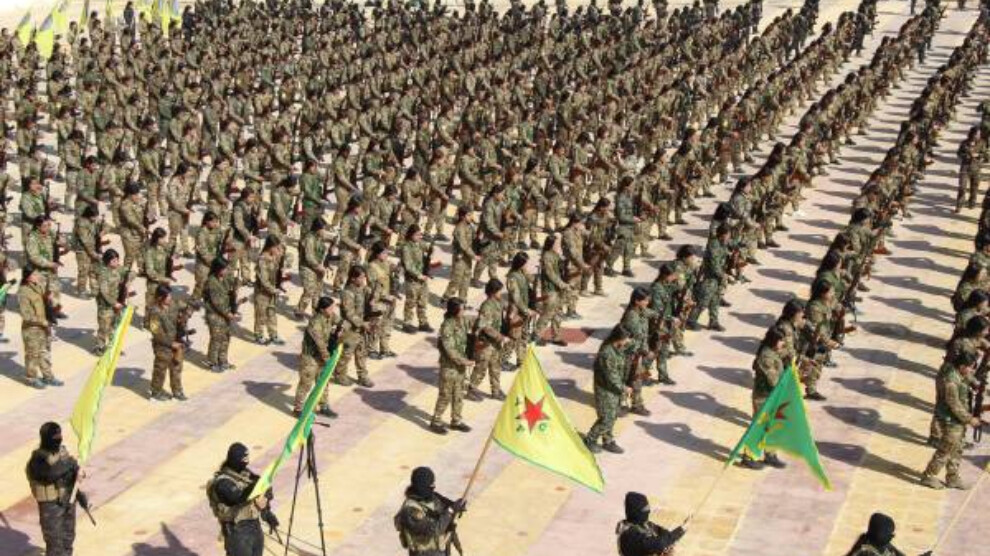 Fighters of the Women's Defense Units (ku. Yekîneyên Parastina Jin, YPJ) celebrated International Women's Day March 8 with an impressive military ceremony in Hesekê on Sunday. The spectacular performance by hundreds of female fighters was attended by numerous personalities from the military structures, civil society and the local population. The highlight was a speech by Newroz Ehmed, one of the general commanders of the YPJ.
Ehmed began by thanking Clara Zetkin as the initiator of International Women's Day and all other women pioneers for women's rights and equality. "But we don't limit women's struggle merely to celebrations like those of today," Ehmed continued. "March 8 has become a symbol of all human values and an achievement for all humanity in the person of women. However, the attacks of the male-dominated mentality continue. However, it should not forget that women have fought for their rights at great sacrifice. March 8 is not a day that the patriarchal mentality has 'graciously' left to us."
Capitalist modernity wants to destroy women's liberation struggle through well thought out methods, said Newroz Ehmed and continued, "We as women in Northern and Eastern Syria know this approach from Afrin, Serêkaniyê and Girê Spî in the form of patriarchal violence, rapes and kidnappings by the fascist Turkish state and its mercenaries only too well and will not forget it. This fact underlines that a free life will not be possible as long as the male-dominated mentality continues to exist. In order to end the existence of the patriarchal mindset, we must continue to educate and organize based on the memory of our fallen companions who sacrificed themselves to defeat this mentality and defend the revolution in this way. As women, we are closer to freedom today than ever before. If there is to be a life, it must be a free life. This freedom can only be achieved with the participation of all sectors of society."
"The fact that the YPJ's paradigm - "Free women are the basis of a free society" - is the right path to a free life is also shown by the international support for this idea. The participation of women from all over the world in the resistance for free life, first and foremost friend Lêgerîn (Alina Sanchez), highlights once again the importance of women's values in building a society. The struggle of the YPJ in northeastern Syria will pave and enlighten the way to freedom for all women of this world," said Ehmed.
After the speech, there was a cultural program, including a theater performance, folklore performances and a performance by a choir. The celebrations were concluded with joint Govend dances.