Women Weaving Future organises webinar on Abdullah Öcalan
The birthday of Kurdish people's leader Öcalan is approaching and Women Weaving Future organised a series of webinars.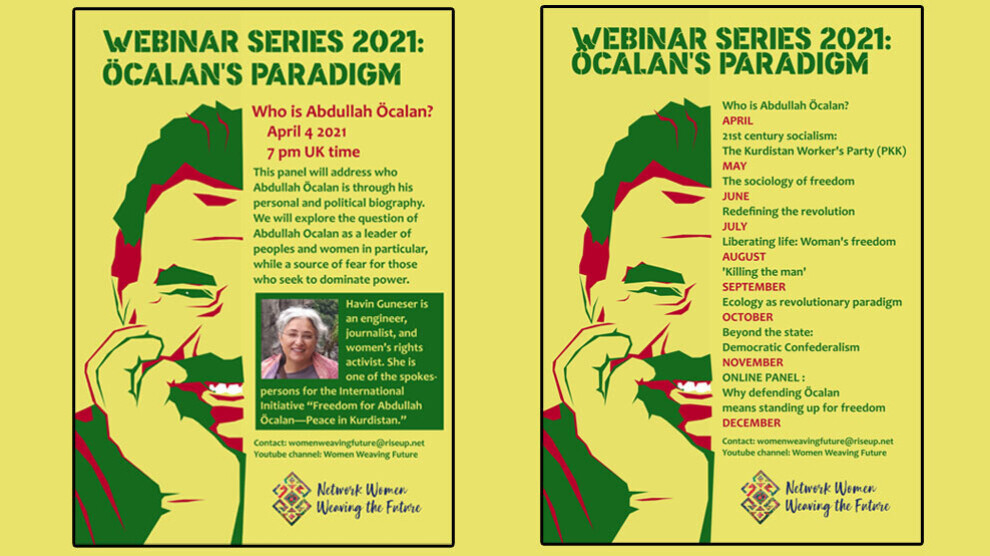 Abdullah Öcalan, the founder and leader of the Kurdistan Worker's Party (PKK) has been imprisoned on the Turkish State prison-island of Imrali for more than 22-years. In 1999, his abduction was the result of an internationally planned NATO-conspiracy and as he remains captive in an unprecedented situation even his most basic human rights as a prisoner are denied.
Women Weaving Future is organising a webinar series that will explore, from a women's perspective, Abdullah Öcalan, his philosophy of freedom, and the Kurdish Liberation Movement's struggle against all forms of oppression in the quest for the freedom of all. The organisers said: "We will uncover crucial questions including, who is Öcalan the leader and thinker? Why and how is his philosophy a source of strength for freedom seekers around the world? And why does it frighten power?"
The webinar series will start with Havin Guneser from the International Initiative "Freedom for Abdullah Öcalan" presenting "Who ist Abdullah Öcalan?" on 4 April at 7pm UK time. This panel, will address who Abdullah Öcalan is through his personal and political biography. We will explore the question of Abdullah Öcalan as a leader of peoples and women in particular, while a source of fear for those who seek to dominate power.
The organisers remind that "Öcalan has no visiting rights, no communication with the outside world, and for the past year there has not been a single sign of life from him.
Despite all isolation measures, Abdullah Ocalan's ideas continue to break the boundaries of his physical conditions. The revolution in Rojava (North-East Syria), lead by women, is based on Ocalan's paradigm of democracy, ecology and women's liberation. His sophisticated and developed criticism of state-civilisation, power and capitalist modernity inspires the people of Kurdistan, the Middle-East and far beyond."
To register please write to [email protected] 
You can watch the webinar live on our Youtube Channel "Women Weaving Future" here.