Political police operations protested in Batman
The political genocide operations were protested in Batman.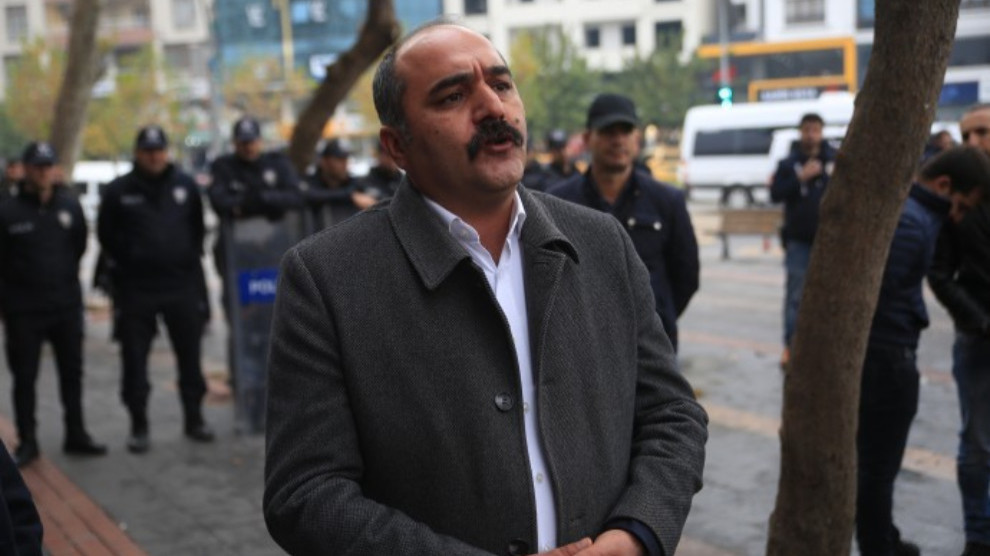 A protest was organised in Batman against the detention of 30 people including Democratic Society Congress (DTK) delegates, Human Rights Association (IHD) executives and Peace Mothers Assembly members.
DTK co-chair Berdan Ozturk, HDP Deputy Mehmet Rüştü Tiryaki, Batman Municipality co-mayor Songül Korkmaz and party executives joined the action in front of the HDP provincial building. 
The statement was blocked by police which had surrounded the party building. Öztürk and Tiryaki argued with the police who did not want to let the press conference to take place outside the building in accordance to the governor's decision to ban any open air event. 
Tiryaki said: "We have said that the politicization of the judiciary is all along. The 30 people taken into custody are all very well known in Batman. Therefore, these arrests are actually a hostage taken operation, with no legal basis."
16,300 people detained since 2015
Tiryaki said that 16,300 people have been taken into custody since 2015 and 3,500 of them have been remanded in custody in operations directed against their parties. Despite this, our people will win."
DTK co-chair Öztürk said that those who want democracy and freedom were arrested and added that the latest operation in Batman was one of these operations.
Öztürk added: "The AKP and the MHP has today no words for the Kurdish people. Whatever they do is dictated by Kurdish hostility."
Öztürk underlined the ongoing isolation of Kurdish people's leader Abdullah Öcalan and added: "We must fight against the isolation in Rojava, Rojhilat and Başur. Nobody can scare us by arresting us. We want peace. Victory is close."