People of Tabqa respond to Assad: We are all SDF fighters
Tabqan people responded to Assad's comments targeting SDF, saying; "We are all SDF fighters. Whoever calls SDF traitors labels all peoples traitors."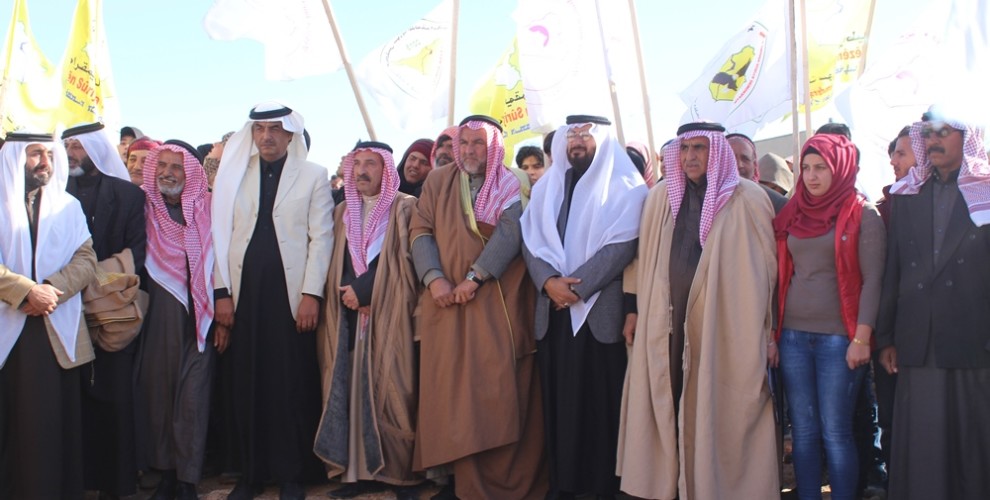 People of Tabqa gathered at al-Xaz Stadium in protest at Syrian regime President Bashar Assad's comments that "Kurds are betraying their country by their alliance with the US."
People staged a march before a rally at al-Alam Boulevard, carrying banners of Syrian Democratic Forces, Syrian Democratic Council (MSD), Syrian Women's Assembly, Syrian Youth Assembly, Democratic Civil Administration of Tabqa, and banners protesting Assad's comments.
Tabqa Legislative Council Co-president Rewşen Heme read a statement on behalf of the Democratic Civil Administration of Tabqa.
The statement said the following;
"We strongly condemn Bashar Assad's immoral comments that accuse our forces of treason. The whole world knows that these forces are fighting against terror in Syria and enable the unity of Syrian people. Kurds and Arabs are working together, having fought in the same emplacements in Tabqa.
Those who label Syrian Democratic Forces "traitors" do also label Kurds, Arabs, Syriacs and Turkmens "traitors". We state that we will give our struggle with the Syrian Democratic Forces that we support.
Bashar Assad's irresponsible comments aim to deepen the crisis in Syria.
We all know that the Syrian regime conducted attacks, too, while the Tabqa city faced terror attacks. The regime abandoned Tabqa city into the hands of gang groups that later handed the city over to ISIS gangs. After a long while, Syrian Democratic Forces came to our rescue. There are hundreds of young women and men from Tabqa in SDF ranks. Those young people liberated our city with their blood, paying the heaviest price. For this reason, we do not accept Assad and others labelling such a force "traitor".
On this basis, we declare that we will continue working with the Syrian Democratic Forces under the Syrian Democratic Council where our children are present. All together, we will build a Syria on the basis of peoples' brotherhood, that involves all peoples and faith groups.
We call on all segments to unite around Syrian Democratic Forces. We are all SDF fighters."
Speaking after, Fatima El Eli of Tabqa Women's Assembly said; "On behalf of women that fight bravely against ISIS in the battlefield, resist with a self-sacrificing spirit and play a leading role in political, cultural and social fields, we condemn Assad's comments. We take every word against SDF as said against the people of the region."
Sheikh Ehmed Ewad El Hisen from Tabqa Tribes' Reconciliation Assembly said they do not want war any more, adding; "We need to unite against terror. We should take place in the same emplacement and never allow any force to approach our soil. We are peoples of Syria, not traitors."
Youth and Sports Committee Co-chair Minewer El Edad also condemned Assad's statement and said; "Those accusing us of treason should look at what they have brought about for the people of Syria. They were silent and did nothing while Syrian youths were beheaded and everywhere was drenched in blood. We shed our blood for the freedom of the country, how can they ever call us traitors?"