People of Antakya still in need of shelter 51 days after the earthquake
After the series of severe earthquakes in early February, many people are still homeless in Antakya. The people in the Ekinci neighbourhood are urgently calling for containers.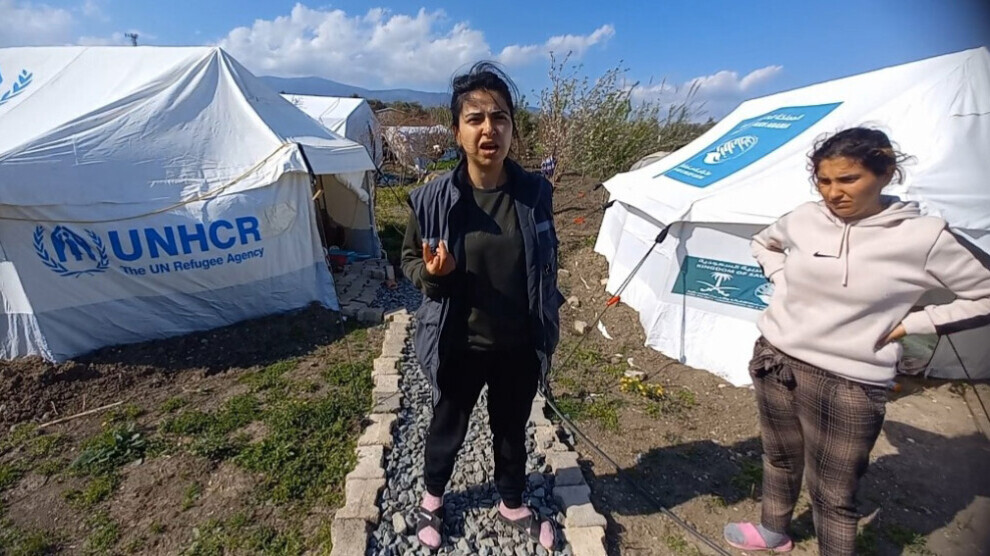 Although 51 days have passed since the earthquake, the problem of shelter in Antakya has not yet been solved. There are still piles of rubble on all the streets in the city and the earthquake victims mainly need tents and containers. The disaster management authority, AFAD, is shirking its responsibility and turning to the heads of the neighbourhoods in this regard. In the Ekinci neighbourhood, some people are sheltering in tents given to them by Istanbul's Kartal district municipality. Others sleep in greenhouses and many others in their neighbours' tents because they cannot find a tent of their own. The residents of Ekinci are demanding an urgent solution to the problem of accommodation.
One of them is Süleyman Önal. He was only able to find a tent a month after the earthquake and is very worried about the helplessness of his son, who is 94 per cent mentally disabled. His house was damaged in the earthquake and cannot be entered. His son had an epileptic seizure as a toddler and needs a safe environment, Önal said: "After the earthquake, we went to our relatives in Mersin because our house was damaged. But my son couldn't cope there, so we had to return to Hatay. We couldn't find a tent here for a long time. We only managed with the help of our neighbours. We couldn't go to the tent city because my son is always screaming and undressing in public. This causes unrest in the neighbourhood. He also goes off on his own and we can't find him for hours. Since he knows the area, he knows where to return to. But if he gets lost in an unknown place, neither I nor his mother can find him."
Önal now lives with his wife and son in a tent, but that brings big problems. His son is very afraid and screams. Önal stated that they urgently need a container to get out of this situation: "The tents are here side by side with our neighbours. My son is afraid of the tent and therefore always wants to stay outside. When he is afraid, he throws a fit and screams. Everyone is then worried. We can't control him because he is very strong. That's why we urgently need a container. At least it will be like a house, and he can stay there. We are in a very difficult situation. We are waiting for a helping hand for a container. That is our priority request at the moment."
Aylin Anlar, who has to live in the tent she put up in her garden because her house was damaged in the earthquake, also stressed that they urgently need containers. In Antakya, heavy storms regularly occur at Easter, she said, adding: "Our tents were flooded by the rain. The beds were soaked, we couldn't find a place to let the children sleep, and now the storm is coming. I don't think the tents can withstand it. In our normal life before the earthquake, the roofs were blown off in the spring storms."
Life is getting harder every day, Aylin Anlar stated: "In the summer, snakes, reptiles and scorpions will appear. How will we survive in this tent? We have no idea. The problems in winter are different from those in summer. For this reason, we urgently need to be provided with containers. This is our demand to the authorities."
Another resident of Ekinci is Oğuz Cengiz. He has not received a tent from AFAD despite repeated requests. Years ago, he had an accident at work as a construction worker, and since then he has had a walking disability. He told the authorities about this, but they still did not provide him with a tent. His flat was badly damaged in the earthquake. "Although I repeatedly told the authorities that I was disabled, I did not get a tent. I had to stay in our neighbours' tent. For this reason, I cannot bring my family here. I cannot leave this place because of the house, all our belongings are inside. We are unhappy and devastated, but no one hears our voices. I am asking the authorities once again for help."
Ersin Atasoy had to put his parents up in a tractor trailer. He himself had initially stayed in his damaged house because there were no other accommodation options. "51 days have passed since the earthquake, but the lack of tents continues. I got a tent from the mukhtar, but it is much too small. Therefore, my mother and father have to sleep in a tractor trailer. My three- and four-year-old children are coming tomorrow, but there is no place for them to sleep. I can't put them in the house because of the danger of collapse, but there is no tent either. I am thinking about what to do. I need help," said Ersin Atasoy.