Medical chambers in solidarity with Emine Şenyaşar
Members of the Urfa and Amed medical chambers attended Emine Şenyaşar's vigil. For 33 days, the 70-year-old woman has been staging a sit-in outside the courthouse demanding justice for her relatives who were murdered by an AKP mob.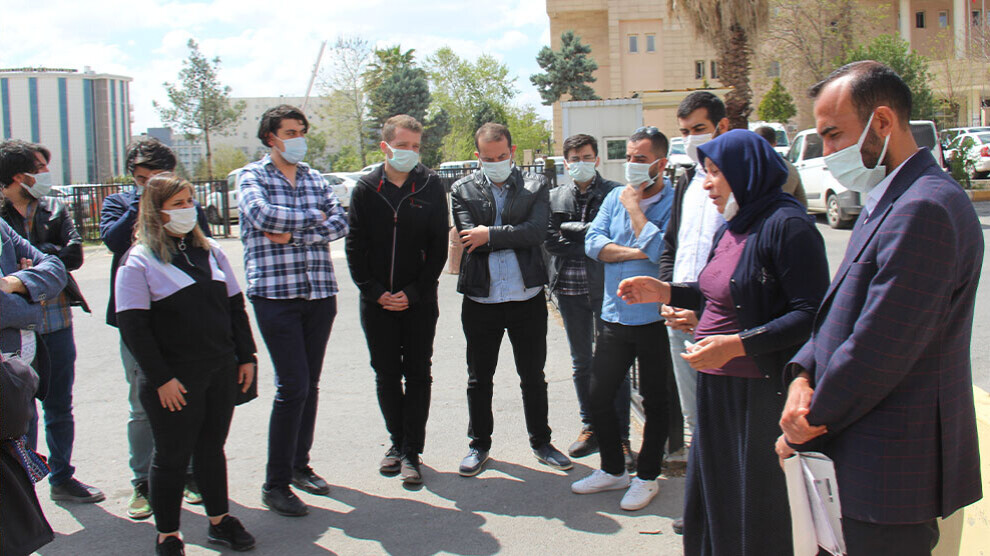 The board members of the medical associations in Urfa and Diyarbakır visited Emine Şenyaşar's vigil today and expressed their fullest solidarity with the elderly woman. For what is now the 33rd consecutive day, the 70-year-old woman, along with her son Ferit Şenyaşar, has been protesting with a sit-in in front of the courthouse in Urfa, demanding justice for her family members killed in June 2018 by bodyguards and relatives of AKP deputy Ibrahim Halil Yıldız: her husband Hacı Esvet and her two sons Celal and Adil Şenyaşar. Only one of the attackers has so far been convicted of the triple murder - albeit to a symbolic sentence of 18 years. In contrast, a third son of Emine Şenyaşar is facing nearly 38 years in prison for killing an attacker, although it has been proven that he did not shoot the man.
Harassment by police at vigil
The solidarity visit in front of the courthouse was also attended by Gökhan Dayık, one of the Şenyaşar family's lawyers. The lawyer recalled a conversation with the former Chief Public Prosecutor of Urfa, who was initially in charge of the case: "During this conversation, the prosecutor expressed that he was being put under political pressure. Shortly after, he was removed from the case."
The Turkish judicial authorities show no interest in solving the murders completely. Rather, there are attempts to cover up what happened on June 14, 2018, and to seek responsibility from the victims. Even during Emine Şenyaşar's desperate protest, there are repeated attacks and harassment by the police. Several times, the 70-year-old Kurdish woman has been arrested and taken away in handcuffs.