KCDK-E joins Global Action Day for Afrin on 26 May
Turkey attacked Kurdistan and occupied Afrin in violation of all international law.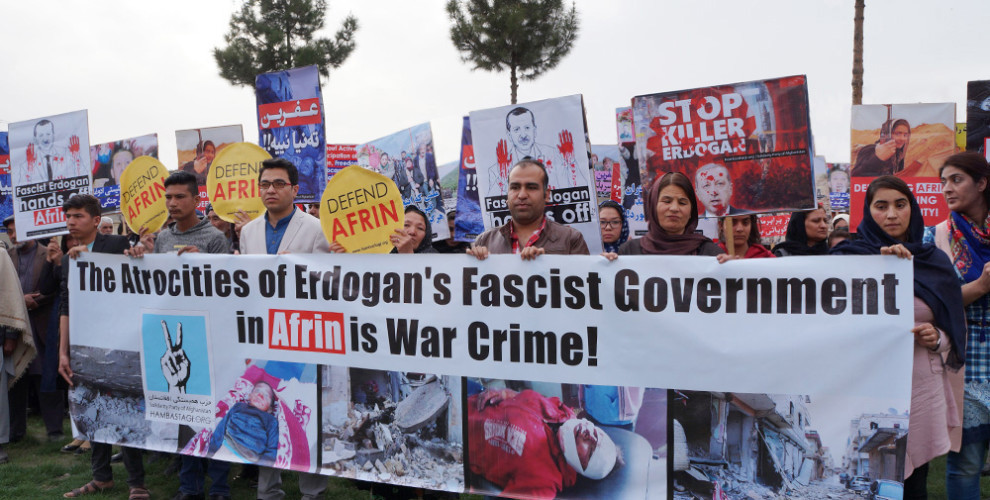 The KCDK-E (European Kurdish Democratic Societies Congress) released a statement to support the Global Action Day for Afrin on 26 May.
The statement underlined that "The AKP-MHP fascist alliance has attacked Kurdistan by bombing and occupying Afrin, in violation of all international law and rules".
The statement added that "Afrin and the people living in peace in the region were attacked before the world's eyes. The aim being the paradigm of freedom and equality developed in the region. The Turkish state wanted to make an example of Afrin, destroying every achievement made by the Kurds there. It even went to the extent of changing the region's demography by forcing resident to flee and settling its mercenary allies and their families in the houses of Afrin citizens".
The statement by KCDK-E also warned of the danger of further occupation by the Turkish state which has now turned its eye on to South Kurdistan.
The statement continued: "The AKP-MHP wants to prevent the development of the women's libertarian and egalitarian model in Rojava. A model which is viable not just for Rojava but for the whole Middle East and many other nations have been looking and studying it with interest. Kurdish People's Leader Apo has defined and theorised the Democratic Nation paradigm. And Turkey fears this and has worsened its attacks against Kurds".
Calling on the international public opinion to show their support for Afrin, the promoters of the Global Action Day for Afrin said: "In the invasion of Afrin, Russia opened Syria's airspace to Turkey's air force, and the dominant international forces (the USA and the EU) remained silent. A similar silence continues during the attacks against South Kurdistan. The international complicity leaves the Kurds vulnerable to massacres in every part of Kurdistan.
We call upon all international governments and alliances (the UN, NATO, the EU, the Arab League) as well as the world's democratic peoples, to oppose the Turkish aggression.
We call upon all political parties, human rights organisations, trade unions, activists and international institutions, to support the struggle for the freedom of Kurdistan.
Towards this end, we announce the 26th May 2018 as a Global Day of Action against the Turkish invasion of Rojava (Northern Syria) and Bashur (Northern Iraq).
Stop Turkey's invasion and support the struggle for the freedom of Kurdistan".