Indefinite hunger strike against isolation launched in London
"With the awareness that every moment may cost a heavy price we would like to share with the public that we have to assume fully our responsibility."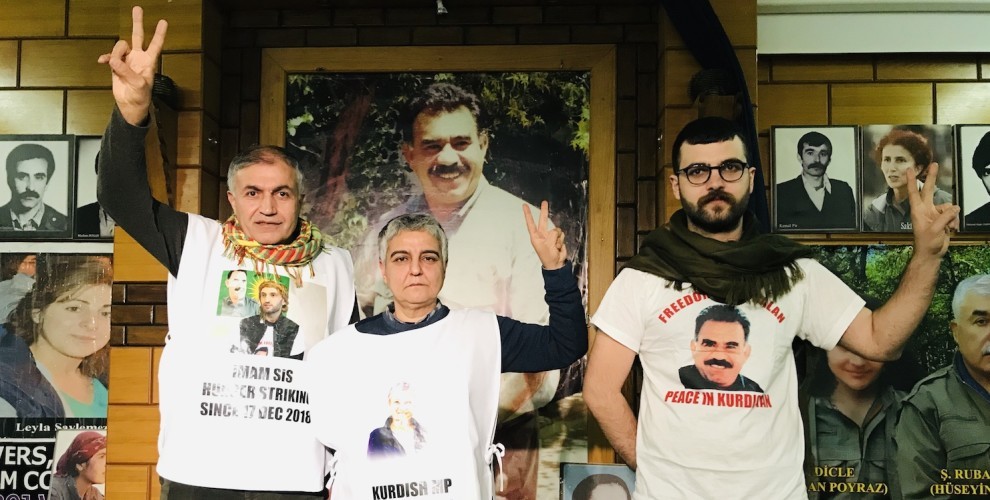 Three Kurdish activists went on indefinite hunger strike in London.
The three, Nahide Zengin, Mehmet Sait Yılmaz and Ali Poyraz, joined the hunger strike resistance led by HDP Hakkari MP Leyla Güven at the London Democratic Kurdish Community Center.
Hunger striker Nahide Zengin said that silence was not an option in this historical resistance process as it was incompatible with humanity and added that they wanted to play their role.
"The people of Kurdistan did not accept this captivity since the first day, and they don't accept it today. Leyla Güven launched the 'Let's break isolation, defeat fascism and free the Leader' resistance. Activists in Hewlêr, Wales, Strasbourg, prisons are on hunger strike and thousands take to the streets all over the world. As stated by Leyla Güven and other comrades on the first day, remaining silent about isolation and about oppression is not compatible with humanity."
Silence cannot be accepted
Hunger striker Mehmet Sait Yilmaz said: "This historic resistance forces everyone to break the silence. Every action against fascism is important, but the hunger strike is different as your body is fading away second after second. We have commended the hunger strike resistance carried out in many parts of the world and in prisons for 128 days and we have now decided that we too are part of this resistance."
Ali Poyraz said the isolation imposed on Kurdish People's Leader Abdullah Öcalan was not just directed to him as it was in fact part of a bigger plan aimed at destroying every aspect of the Kurdish people's life.
"We recognize the isolation in Imrali as a social isolation, - said Poyraz - and ending it is the most democratic and humanitarian demand. There can be no more natural demand. However, the AKP-MHP-led fascist Turkish state has turned deaf ear to this demand and continues the barbaric attack against all opposing forces in Turkey. Those who think that these attacks will deflect the Kurdish people from their struggle are totally mistaken and they should look at the history of resistance once more. We will never accept this isolation, we will not remain silent. We will continue our resistance until the isolation is broken."
Everyone should play their role
Ibrahim Avcıl read a statement on behalf of the 27 Kurdish and British institutions in Britain united under the British Democratic Forces. "We declare once more that we support the just and legitimate struggle of the hunger strikers."
Avcıl added: "We would like to remind everyone that it is our humanitarian responsibility to listen to the voice of Leyla Güven and thousands of political prisoners on hunger strike and to spread this voice."
Stating that the critical phase has already been crossed and that at any time now news of death or irreversible damages can be expected, Avcıl said that everyone should play their role in this process.
Avcıl concluded that "with the awareness that every moment may cost a heavy price we would like to share with the public that we have to assume fully our responsibility."