Herford: DITIB is involved in war propaganda with children
The branch of the Turkish Religious Authority Diyanet, DITIB, used children in military uniforms at an event in Herford for nationalist propaganda.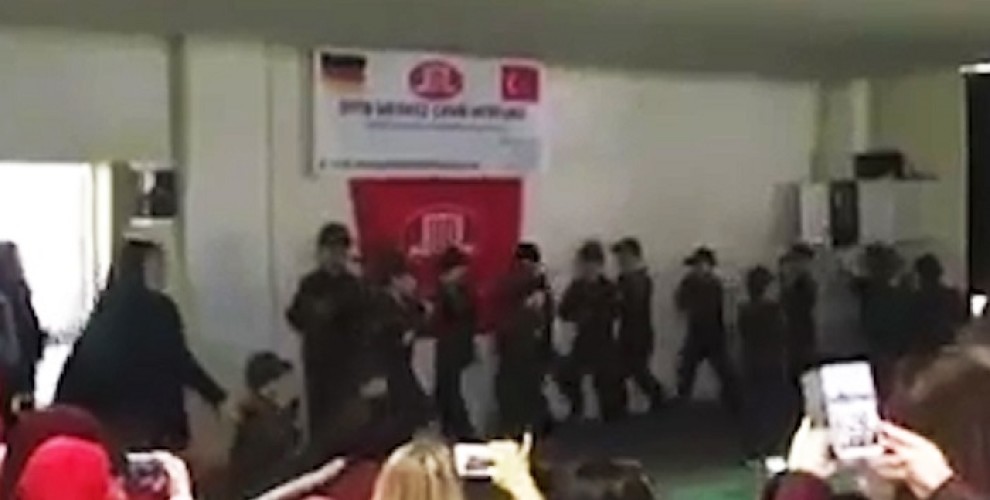 The offshoot of the Turkish Ministry of Religion Diyanet, DITIB, sponsored by the Federal Government and the states, organized in Herford a parade of children in military uniform who were praising the Battle of Gallipoli amidst nationalist chants. The children, equipped with toy guns, played their deaths and were buried under a Turkish flag.
Most recently, DITIB Herford advertised a trip to the "Supreme Commander" Erdoğan for the Easter vacation as part of the project "Youth Bridge". Former Green MP Volker Beck had told the Kölner Stadtanzeiger: "The DITIB acts more and more clearly like a Trojan horse. Outside religion, inside the Turkish state and Erdogan."
The militaristic event took place in the DITIB Central Mosque of Herford. DITIB has 960 "associations" acting under the name "Turkish Islamic Union of the Institute for Religion e. V.". Especially since the emergence of the racist MHP/AKP coalition in Turkey, they have become a center of Islamist and nationalist propaganda. Only last year there was a case against DITIB imams for espionage services for the AKP regime.
DITIB is not only a mosque federation, the association offers many things from religious services to homework help, breakfast, bowling and wedding events. DITIB Herford is connected to the Turkish Consulate General in Munster. In several federal states, such as Hesse, DITIB also influences Islamic religious education at state schools and is one of the cooperation partners of the Humboldt University Berlin to set up a chair for "Islamic theology". At the moment, the negotiations with DITIB are on ice, not because of the nationalist-Islamist orientation of DITIB, but because DITIB insists on a blocking minority, with which they could decide on the chair practically alone.