HDP Co-chair Kemalbay to AKP: Try and do your worst!
HDP co-chair Serpil Kemalbay: "When we rose to the scene 5 years ago, we were united, we challenged, we met in streets in solidarity, and brought them down from power. Now we will do it with greater courage and hope. We are hope, hope is in our hands."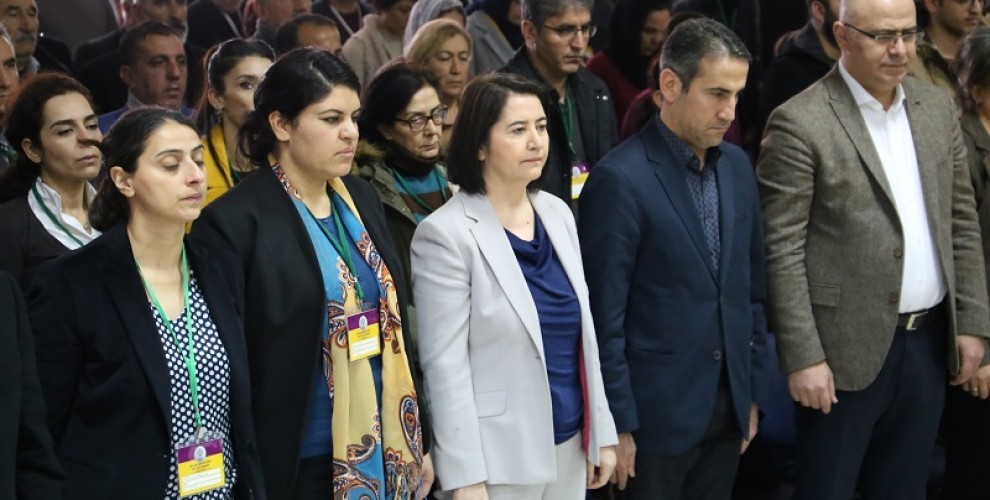 The Peoples' Democratic Party's Regional Conference was held in Amed (Diyarbakir) prior to the Ordinary Congress which is set to be held in February. HDP Co-Chair Serpil Kemalbay, HDP Central Executive Board (MYK) and Party Council (PM) members as well as representatives of the HDP Diyarbakir Provincial Organization were present in the conference held in Vedat Aydın Conference Hall of Diyarbakir Provincial Building.
A banner reading "The same determination to the future yesterday to tomorrow, the same courage past to present" was hung in the saloon where the conference was held.
Serpil Kemalbay made the opening speech of the conference, which started with a minute of silence for Kurdish women politicians Sakine Cansız, Fidan Doğan, Leyla Şaylemez, Sêvê Demir, Fatma Uyar and Pakize Nayır, who were murdered in Paris and Silopi and for those who lost their lives in the struggle for democracy and freedom.
Speaking at the conference in Amed, Kemalbay said the following:
"Human history is the one of struggle. Our party is trying to fulfill this equality, freedom, justice struggle by taking on its role in history. Today, all our rights, freedoms and achievements are gifted to us by those who raised freedom flags against heavy attacks by paying the price throughout history. I commemorate all comrades who have struggled in this cause.
Three female politicians in Silopi, two years ago, and three female politicians in Paris, five years ago, had lost their lives. We will pass on the inheritance of the struggle that they left us to the next generations. Again, I commemorate Murat Bozlak, who gave a great deal of struggle with his fight. His struggle is our struggle.
"TURKEY IS FORCED TO TRANSFORMATION"
We are going through a period when Turkey is forced to great transformation. The crisis is not just a simple one. It is a period when the state and republic is forced to transformation. We have accepted the rising struggles against the 100 years of oppressive regime as our own repertoire. On June 7 we also achieved a great gain. This meant: The peoples of Turkey had not turned their backs on the truth of solving their problems with means of peace.
They did not want the continuation of the status quo, they had a change request, and they saw HDP as their address. In response to this reality, the state's reflexes acted. The sovereigns who feed from the repressive regime claim that the democratic solution of the problems is not in the will of the people but in destroying them, in their own words, in collapse. This oppression, violence and war politics to this day is due to this reality. In the last two and a half years, they attacked in an all-out manner. But Turkey's democracy forces, the oppressed have resisted and remained up. Our party entered 2018 with the will to welcome and transform this struggle.
THE STRUGGLE IN IRAN AND ROJAVA
We see that the crisis we are experiencing is not just peculiar to Turkey. We see that important experiences have been built to ensure that we look forward to the future with hope. Rojava is drawing an important horizon. We see in the experience of Rojava the power of being able to stand side by side in the terrible war in Syria and to be able to stand up and possess certain politics, and the will of the people. Also, we are witnessing the uprising of the people in Iran. The 21st century is a time when peoples rebel against colonization. All these struggles of the peoples are the struggle of HDP. We adopt all of these challenges. Although the hegemons of the will try to steal the gains of the peoples, we will raise our struggle in solidarity. We will continue to be in favor of the people's freedom demands.
"TRY AND DO YOUR WORST"
The more the AKP-Erdogan government attack, the more it fails to hide the corruption. As they entered 2018, they increased their attacks even more. Mr. Idris Baluken was sentenced to 16 years in prison. He was punished for raising a real opposition to exploitive, despotic power, for he was the voice of the peoples, and for his voicing society's contradictions to the government. Not only Baluken, Sebahat Tuncel, Aysel Tuğluk, Leyla Birlik and many of our friends were sentenced to punishments. They tried to give us a message. They tell us "We will eliminate you from politics, we will destroy HDP." We say: "Try and do your worst, we will continue to fight, never ever to step back a millimeter."
They do not just arrest us. We are witnessing massacres and systematic torture. The least of this is to take people out of their graves and take their bones. They do not have respect even for graves and the dead. They are in such a big hurdle that they attack our funerals, even our graves.
They brought one-type uniform to the agenda. They brought it up despite knowing one-type is torture and that they would not be able to put it on political prisoners. They do not do it just to intimidate us. They are attacking us systematically. Because we are a struggle loudly fighting against all things. They want to obstruct this. They say: "You deal with one-type and your funerals; Let's continue our exploitation." There is no pillage, we will be in these areas of struggle and we will also fight against the AKP-Palace regime. You will never see us as a party that only deals with its own problems.
2018 will determine the destiny of the peoples of Turkey. This struggle among those who want to democratize the republic against those who want to institutionalize fascism will continue to be at its strongest in 2018. We know that this struggle for democracy will take place in much heavier conditions than the struggle until now. We understand the process of the next Congress with this consciousness and prepare ourselves.
We will discuss the policies, tactics and strategies of the future process in this conference and ensure that the congress is stronger.
"A PITEOUS GOVERNMENT"
We know that the AKP-Erdogan regime cannot survive even one day against an organized struggle with the powers of united democracy. We are faced with a piteous government trying to buy friends by signing a missile deal in the world. A government which does not have any friend in the international area. We are confronted not only by an AKP which takes on HDP and HDP voters but that has taken on all the dynamics. We are facing a government which has opened war on the whole society, which darkens everyone's life from young to old. Our duty is to bring these dynamics together, hand in hand and shoulder to shoulder. There is no emancipation alone; either together or none of us.
"WE ARE HOPE"
When we rose to the scene 5 years ago, we were united, we challenged, we met in streets in solidarity, and brought them down from power. Now we will do it with greater courage and hope. We are hope, hope is in our hands."