HDP calls on the ECHR to take action for Turkey
A delegation of the HDP made a statement in front of the European Court of Human Rights and said: "Until the release of the Co-chairs and parliamentarians of our party we will continue the march for justice, equality and freedom."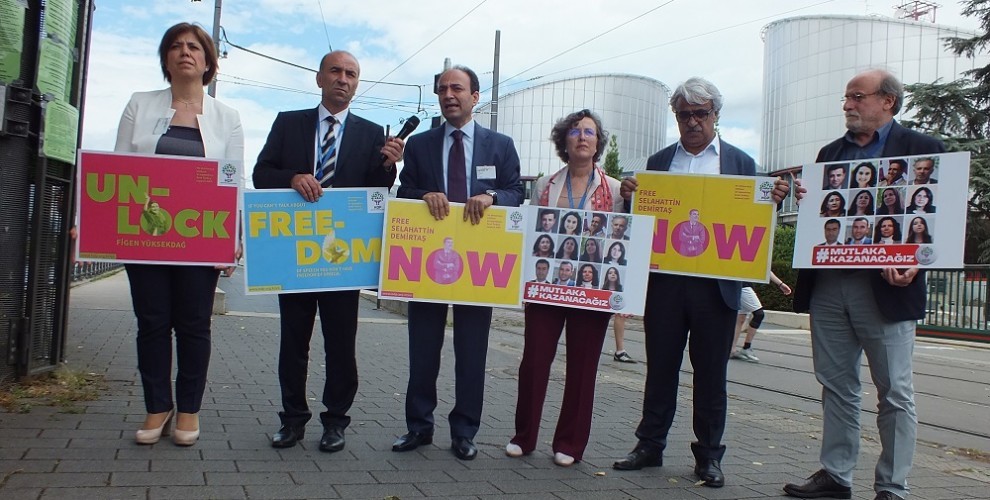 Peoples' Democratic Party (HDP) Spokesperson Osman Baydemir, Group Deputy Chair Filiz Kerestecioglu and MPs Ertuğrul Kürkçü, Meral Danış Beştaş ve Mithat Sancar made a statement in front of the European Court of Human Rights (ECHR) yesterday..
Speaking on behalf of the HDP delegation, Spokesperson Baydemir highlighted the situation of the imprisoned Co-chairs and parliamentarians of the party and called upon the ECHR to put the situation of the imprisoned MPs on its agenda.
"ERDOĞAN SENDS SECRET DOCUMENTS AND COURT ARRESTS OUR PARTY MEMBERS"
Baydemir stated that: "Six million people have put their confidence and support in the HDP. If Demirtaş is spending the 237th day in prison, if mayors and parliamentarians are still behind bars, you cannot call it legal prosecution, but only an operation of elimination by the government. Courts in Turkey have been turned into an instrument for the suppression of the opposition. AKP Leader Erdoğan gives instructions, submits secret documents to courts and prosecutors that thereupon prepare summaries of proceedings against our Co-chairs, Co-mayors and MPs. They are jailed because of those summaries of proceedings prepared on instructions."
"DOMESTIC REMEDIES EXHAUSTED, OPPOSITION UNDER THREAT"
Baydemir continued; "The document you see in my hand [some days ago Baydemir disclosed the implied "secret document" in a parliamentary meeting] is the proof that the court judgements are given on instructions. We once again prove to the ECHR that Turkey's domestic remedies have been exhausted and reached a deadlock. Due to the delayed judgements of Turkish courts and the European Court of Human Rights (ECHR) big damages are emerging. MPs Figen Yüksekdağ and Nursel Aydoğan have been stripped off their parliamentary seats. Ferhat Encü and Besime Konca are also facing the same risk and this is an irreparable situation.
Besides politicians, opposition media members, public servants, workers, trade unions and all democratic powers are under a heavy threat and attack. People are being dismissed from their jobs and condemned to hunger. Those going on hunger strike are getting arrested, like Nuriye and Semih whose hunger strike has left 113 days behind."
"THE ECHR MUST GIVE ITS DECISION"
"What today is under pressure are not the parliamentarians only, but the will of six million people as well. All basic rights the ECHR stands for, is right now under severe attack in Turkey.We intivite the ECHR to give a decision and announce it as soon as possible. We reiterate our call for justice here in front of the ECHR. If we are today standing here, it is because there is no judiciary left in Turkey anymore. Until the freedom of our MPs, Co- mayors and Co-chairs is attained we will continue our march for justice and equality. The ECHR should give its decision before it becomes too late."
WHAT WAS DISCUSSED DURING THE MEETING WITH JAGLAND?
Baydemir also commented on the meeting with Thorbjorn Jagland, the General Secretary of the Parliamentary Council of Council of Europe (PACE), saying the following: "We exchanged views with Jagland about the state of emergency, imprisonment of journalists and MPs. We expressed our concerns to him over the fulfillment of the international conventions that Turkey is a party to.We conveyed our proposal that jailed journalists and politicians should be priority groups for the ECHR. And we once again discussed the responsibility the European institutions are carrying for the freedoms of everyone and institutionalization of democracy."